The 20 greatest concertos in classical music
28 July 2023, 11:18 | Updated: 3 August 2023, 17:46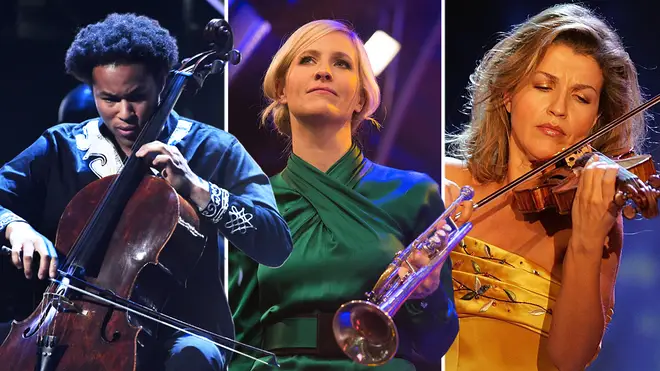 The concerto is the consummate musical form for instrumental virtuosity – but which ones are the best of the best?
Most commonly written for the violin, piano or cello, concertos make up some of the most moving, hair-raising, emotionally charged repertoire in classical music.
They are a wonderful vehicle for expressive, acrobatic playing from the soloist, who must simultaneously collaborate and compete with a full orchestra behind them. It's a constant dialogue, but also a chance for the soloist to really indulge and dazzle the audience with their virtuosity.
For that very reason, the concerto is one of classical music's most enduring forms, still written prolifically today.
From Mozart to Marsalis (but not necessarily in that order), we explore some of the greatest concertos ever written.
Read more: The 15 greatest symphonies of all time
Bach – Concerto for Two Violins in D minor

When you're tired of playing on your own, it's time to get a friend round. For violinists, that means learning the subtle intricacies of what is commonly known as the Bach Double – a gorgeous, stately work that demands much of the performer and little of the listener.

Read more: 10 of Bach's all-time best pieces of music

Bach - Concerto for two violins in D minor BWV 1043 - Sato and Deans | Netherlands Bach Society

Barber – Violin Concerto

Like the other great American concerto from this time, Copland's for the clarinet, Barber's knack in his only violin concerto was to take a chance on the instrument's character. In fact, during the composition of the concerto, the intended soloist Iso Briselli was worried that it wasn't technically challenging enough. But of course, the real challenge was in the performance, the character, the magic of Barber's musical language.

Barber Violin Concerto Op.14, Yu-Chien Tseng

Bartók – Concerto for Orchestra

Turning the very idea of a concerto inside out, Bartók's thrilling Concerto for Orchestra serves as a tour of the whole ensemble that highlights several instruments in turn. It's like a utopian, ultra-inclusive vision of what a concerto can be. And though quite a few composers have used this format too, Bartók's has rightly risen to the top – there's nothing quite like it.

Bartók: Konzert für Orchester ∙ hr-Sinfonieorchester ∙ Andrés Orozco-Estrada

Beethoven – Piano Concerto No. 5 in E flat ('Emperor')

The most famous of Beethoven's piano concertos and perhaps of all his concertos in general, the 'Emperor', like its title suggests, towers above the piano repertoire. From its majestic, march-like opening, through to its serene, heavenly Adagio, and into that joyous finale, it's one of Beethoven's greatest journeys and triumphs that stands eternally in the concerto canon.

Alina Bercu performs Beethoven's Piano Concerto No. 5 in E flat major op. 73 (full)

Brahms – Violin Concerto in D

The master of the romantic melody, Brahms really extended himself with his only violin concerto. It was dedicated to the violinist Joseph Joachim, who ranked it alongside Beethoven's as the most serious in all the violin repertoire. A popular refrain among violinists is that its difficulty is almost excessively demanding and awkward - but still, it remains an audience favourite.

Brahms: Violinkonzert ∙ hr-Sinfonieorchester ∙ Hilary Hahn ∙ Paavo Järvi

Bruch – Violin Concerto No. 1 in G minor

No-one likes a show-off. Well, unless they're playing the last movement of Bruch's first violin concerto. As showstoppers go, this one is seriously hard to beat, so it's no wonder worldwide audiences still go crazy for it. The work's supreme tunefulness and beautiful orchestration accounted for it being voted to the very top spot during the first five years of the Classic FM Hall of Fame.

Maxim Vengerov plays Bruch Violin Concerto No. 1 (2021)

Copland – Clarinet Concerto

It's not big, but it sure is clever. Few concertos would open so strikingly as this, with the most plaintive and deceptively simple melody line, shot through with incomparable melancholy. To then effectively explode all that hard work by making a transition to shocking, exposed acrobatics in the vigorous closing section takes guts and poise – and that's just from the composer. An electrifying work.

Aaron Copland - Clarinet Concerto - Calogero Palermo - Klaus Mäkelä | Made in America

Tan Dun – Concerto for Water Percussion and Orchestra

The 1998 'Water Concerto for Water Percussion and Orchestra' by Chinese-American composer Tan Dun is an extraordinary three-movement concerto in which the solo instrument is quite simply, water. In an inspired feat of music-making, the soloist sloshes, sprinkles and creates sonorous ripples in the mini reservoirs before them. Percussion instruments are plunged into the water to warp their pitches, and at the concerto's 'cadenza', water gushes from a giant strainer in a torrential shower. This is one concerto where you might want to stay out of the front row…

Elgar – Cello Concerto in E minor

Composed late in Elgar's career, this towering and emotional work has taken on a life of its own since it was consummately commandeered by cellist Jacqueline du Pré. Her story, and Elgar's story for that matter, are what cellists these days have to consider when they pick up the bow for this monster piece.

Elgar Concerto in E minor op. 85 | Bryan Cheng - Queen Elisabeth Competition 2022

Grieg – Piano Concerto in A minor

Can you think of a better opening to a concerto than that declamatory piano clank? What's so satisfying about Grieg's only piano concerto is that even after such a boisterous beginning, it doesn't let up – the melodies, the divine middle movement and the epic clatter of the orchestral ending all combine to make one of the most accessible and lasting concertos ever written.

Daniel Kharitonov(Даниил Харитонов) - Grieg Piano Concerto in A minor, Op 16

Haydn – Trumpet Concerto in E flat

With his Concerto in E flat, Haydn broke new ground for the trumpet. It was the first time audiences would have heard the instrument playing in its lower range and using all the notes of the scale. Anton Weidinger, a trumpeter in the courts of the Esterhazy Palace who had developed the first keyed – as opposed to a 'natural' – trumpet, commissioned it in 1796 and it remains iconic today, even used in Netflix's viscerally disturbing TV series Squid Game.

English trumpet virtuoso Alison Balsom plays Haydn's ground-breaking Trumpet Concerto! #Shorts

Wynton Marsalis – Violin Concerto

Exquisitely bridging the gap between the jazz and classical worlds, New Orleans-born and Juilliard-trained Marsalis created something spectacular with his 2019 Violin Concerto for Nicola Benedetti. He draws from American jazz and folk music, marching bands and traditional Celtic fiddle music, gifting Benedetti some big cadenza moments amid the concerto's relentless spirit, which ends in a stomp-tastic 'Hootenanny'.

Marsalis: Violin Concerto in D Major - 1. Rhapsody

Mozart – Horn Concerto No. 4 in E flat

Mozart's concertos had this innate understanding to them, a feeling that no matter which instrument he was composing for, he understood it fully. That's perhaps why he composed so many – and while the piano concertos and clarinet concerto get the headlines, this perennially popular French horn concerto literally couldn't be written for any other instrument. And that's why it works.

Read more: 10 life-changing pieces of music by Mozart

Stage@Seven: Mozart: Horn Concerto E-flat major K. 495 – Marc Gruber / Elias Grandy

Mozart – Clarinet Concerto in A

It's a rite of passage for clarinettists learning their trade, but despite its comparatively simple (don't get us wrong, it's not easy) notes, it can take a lifetime to master the character. And that second movement alone basically guarantees its entry on this list.

Wolfgang Amadeus Mozart: Clarinet Concerto in A major, K.622

Rachmaninov – Piano Concerto No.2

Probably the most famous of Rachmaninov's three piano concertos, 'Rach 2' has achieved legendary status. It occupies that magic space between accessibility and dazzling technical fireworks perfectly and, crucially, Rachmaninov remembered to throw in some frankly huge melodies too (here's a reminder of why the pop song 'All By Myself' sounds uncannily like Rachmaninov's Piano Concerto No.2).

Rachmaninov Piano Concerto No. 2… for solo piano! | Arsha Kaviani

Rodrigo – Concierto de Aranjuez

One of the most immediately recognisable concertos in classical music, Rodrigo's sultry, buoyant work is an exploration of the guitar's complete range and, inevitably, brings to mind the swelter and romance of Spain.

Thibaut Garcia plays Rodrigo: Concierto de Aranjuez: II. Adagio

Clara Schumann – Piano Concerto in A minor

Clara Schumann was one of the 19th century's greatest pianists, whose compositions are regularly overlooked but increasingly creeping into today's concert repertoire. She completed her Piano Concerto, a fiery and virtuosic affair for the piano soloist paired with a deeply satisfying feeling of unity with the orchestra, while still a teenager.

Read more: Isata Kanneh-Mason and Tim Lihoreau duet at St Pancras station piano

C. Schumann: Piano Concerto in A Minor, Op. 7 - 1. Allegro maestoso

Shostakovich – Cello Concerto No.1 in E flat

Not always the most tuneful but, if you work with it, the Shostakovich cello concerto will repay you far more than you give it. The melodies are buried deep below textured, innovative layers of sound, waiting to be unearthed and hummed, but Shostakovich asks a lot of the listener. Perhaps that's why this is one of the most enduring of his works – the conversation is never really over.

Shostakovich Cello Concerto no. 1 in E-flat major op. 107 | Brannon Cho | Brussels Philharmonic

Vivaldi – Mandolin Concerto in C

It might not feature the fireworks and histrionics of its latter day counterparts in the concerto world, but the way in which Vivaldi skilfully uses the mandolin, a difficult instrument to write for, as a weave throughout the fabric of the baroque orchestra is possibly one of the finest examples from its time.

Avi Avital - Vivaldi: Mandolin Concerto In C Major (Live)

John Williams – Violin Concerto No.2

The result of many years of collaboration and friendship between the movie maestro and German virtuoso Anne-Sophie Mutter, this is John Williams' love letter to the violin – a prominent figure in so many of his soundtracks including the devastating Schindler's List. Composed and recorded nearly half a century after his first violin concerto, it's deeply expressive with hints of Debussy, jazz licks and some beautiful interplay between the violin and harp.

John Williams & Anne-Sophie Mutter – Williams: II. Rounds (Violin Concerto No. 2)