Isata Kanneh-Mason and Classic FM's Tim Lihoreau play charming duet at St Pancras station piano
19 January 2023, 19:20 | Updated: 19 January 2023, 19:38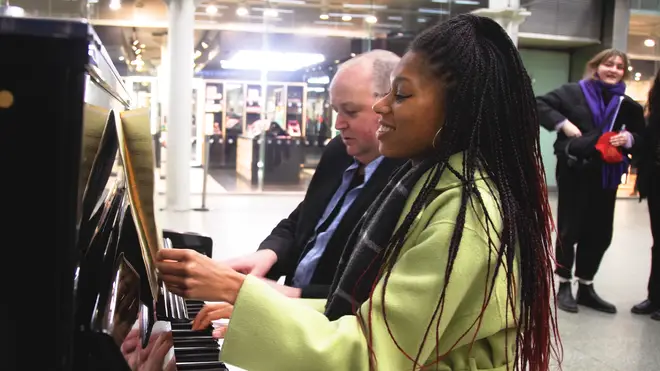 In the bustling surroundings of St Pancras in London, two pianists joined together for a special duet at the station piano…
On 10 January 2023, Classic FM's Tim Lihoreau invited the brilliant young pianist Isata Kanneh-Mason to play a duet with him at the famous station piano in St Pancras International.
Together, they played Fauré's charming Dolly Suite to an unsuspecting crowd of pedestrians, travelling through the central London station late on a Tuesday afternoon.
At the end of their performance, applause from the delighted audience rang through the main hall. "Thank you for putting up with me here on this end!" Tim quipped to Isata.
Next time you're passing through St Pancras station, remember to stop by the piano. There's always a chance you'll hear a talented musician or two playing music to brighten up your commute...
Read more: 'I didn't base the character of Lydia Tár on anyone,' Cate Blanchett tells Tim Lihoreau
Isata Kanneh-Mason and Tim Lihoreau duet at St Pancras station
If you'd like to see Isata perform in concert, she'll be playing a lovely evening of chamber music with the Maxwell Quartet at the Southbank Centre on 27 January, with music by Mendelssohn, Eleanor Alberga and more.