What's that eerie 'cello' theme from the Bathroom Dance scene in Joker?
14 October 2019, 17:35 | Updated: 24 January 2020, 12:24
There's an unnerving string-led theme that crops up several times in 'Joker'. And everyone's remembering it for the way it perfectly accompanies that now-infamous 'Bathroom Dance' scene.
As Joaquin Phoenix's Arthur Fleck locks himself into that grotty bathroom with its flickering lighting, an eerie string-led theme enters with him.
Hildur Guðnadóttir, the Emmy-winning Icelandic composer behind Chernobyl and a classically trained cellist, wrote the 'Bathroom Dance' theme that appears in several places throughout Joker.
She credits director Todd Phillips for bringing her onto the project, telling Variety: "I knew that he was keen on the cello, because he liked what I was doing in my solo work. When they started shooting, they used the music quite a lot on the set, to influence Joaquin Phoenix's performance and the general pacing and choreography."
In the bathroom scene, Guðnadóttir plays a Halldorophone, an electro-acoustic cello that has, alongside the four traditional strings, a set of resonating strings that are mic'd and fed into a speaker. The music starts with the eerie solo Halldorophone, which resonates and creates feedback, all leading up to an uneasy moment of dissonance.
Fleck, who enters the bathroom after having murdered three businessmen who were taunting him on the subway, begins to dance to the music. Many viewers are seeing the dance as a sort of cleansing ritual that signifies Fleck's transition moment into the Joker.
Read more: Everything to know about the 'Joker' music, cast, release date and more >
Joker (2019) - 'Bathroom Dance' scene [1080p]
This scene is even more fascinating when you find out that Joaquin Phoenix was never actually supposed to dance – it only happened when director Todd Phillips played Guðnadóttir's theme to Phoenix one day during filming.
"I just played Joaquin this piece of music," Phillips says, "And Joaquin started to dance to it and it was me and him alone in the bathroom, there's 250 people on the crew waiting outside and he just starts doing this dance and we both kind of look at each other and said OK that's the scene."
Read more: Game of Thrones and Chernobyl soundtracks scoop Emmy 2019 wins >
The original screenplay had Fleck experiencing a complete physical and mental breakdown. He was supposed to talk to his reflection in the mirror and hold the gun to his head and pull the trigger, only to find there were no bullets inside.
But thanks to Hildur Guðnadóttir's award-winning music, we are left with this incredibly beautiful yet unnerving piece of filmmaking.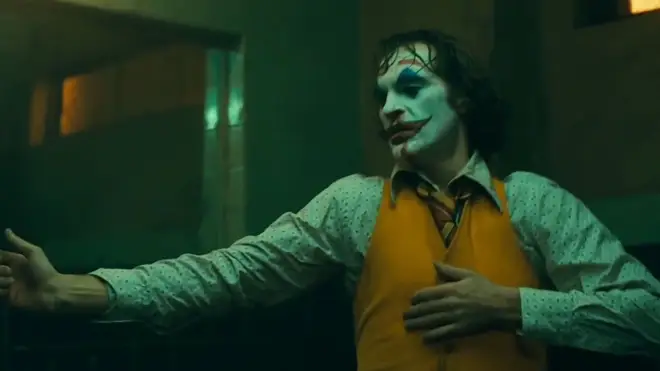 Guðnadóttir, who has already released four critically acclaimed solo albums, was recently signed by classical music record label Deutsche Grammophon.
Born in Reykjavík in 1982, she began playing cello as a child, continued her studies at the Reykjavík Music Academy and went on to study composition and new media at the Iceland Academy of the Arts and Universität der Künste Berlin.
Deutsche Grammophon's Senior Director New Repertoire, Christian Badzura, has praised the expressive beauty of Guðnadóttir's work, saying: "Hildur's music is personal yet universal at the same time. She shapes haunting images and atmospheres in sound, touching something deep within us all."
In January 2020, Guðnadóttir made history as the first woman to win 'Best Score' at Golden Globes, with her soundtrack for Joker.