Classic FM's Mozart Marathon to mark 225th anniversary of composer's death
30 November 2016, 11:22 | Updated: 2 December 2016, 12:46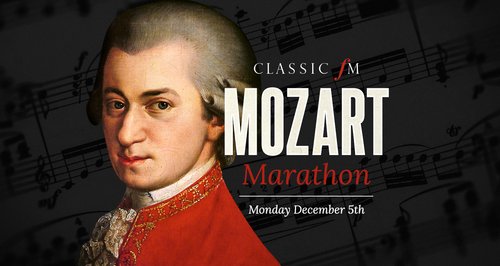 Classic FM will pay tribute to one of the most influential and prolific composers in history by playing nothing but Mozart for 24 hours.
On Monday 5th December 2016, it is the 225th anniversary of the death of the great composer Wolfgang Amadeus Mozart. To mark this historic date, Classic FM is holding a Mozart Marathon. For 24 hours, we will play nothing but Mozart, while our presenters will take the opportunity to tell the story of his life.
Watch: did Salieri kill Mozart? >
Watch: was Mozart buried in a pauper's grave? >
Mozart died at the age of 35. But he composed his first piece at the tender age of 5. Over his short life, he churned out over 600 works, with many pieces acknowledged as pinnacles of symphonic, concertante, chamber, operatic and choral music.
The Mozart starts just after midnight on Monday December 5th, but here are a few highlights:
All day: Win the complete works of Mozart in a massive boxset worth over £300
The competition opens at 0:01 on Monday 5th December and closes at 23:59 on the same day >
6am: More Mozart Breakfast
Start your day with Mozart! Tim Lihoreau will feature the Early Toast to Mozart at 6.35am and Mozart's Breakfast Serial at 7.35am.
9am: John Suchet
From 9am, John will play pieces by the composer that made it into our list of listeners' top 300 pieces, The Classic FM Hall of Fame, followed by an all-Mozart Classic FM Album of the Week at 10:15am.
Throughout the show, John will ask listeners to share their own thoughts on the composer and his music. We'll hear the reaction in the next episode of Mozart The Man Revealed, this Saturday at 9pm, or if you can't wait that long you can buy John's book to accompany the series here.
12pm: Facebook Live Mozart session
The Mozart takeover continues online with a Facebook Live broadcast from outside the Classic FM studio at 12pm. Enjoy live performances of piano sonatas, violin sonatas and even an aria or two.
1-3pm: Classic FM Requests
Anne-Marie Minhall plays listeners' requests. Contact us and we'll play your favourite piece of Mozart. To make your request, call 03457 491812, text 61812, tweet @ClassicFM or email us using the contact form on this page.
5pm: Eine Kleine DriveMusik
John Brunning takes you into the evening with a little Mozart to accompany your commute, your cooking or your relaxation time.
8pm: Full Works Concert: Berlin Philharmonic plays Mozart
The Full Works Concert kicks off its 'Berlin Philharmonic Week' with an exclusive concert recorded at the Berlin Philharmonie. Katie Breathwick presents his Sinfonia Concertante, 'Posthorn' Serenade, and Piano Concerto No.24, in a stunning performance by soloist Piotr Anderszewski.