Request the music you want to hear from 1pm every weekday afternoon. Anne-Marie Minhall will be thrilled to receive your request.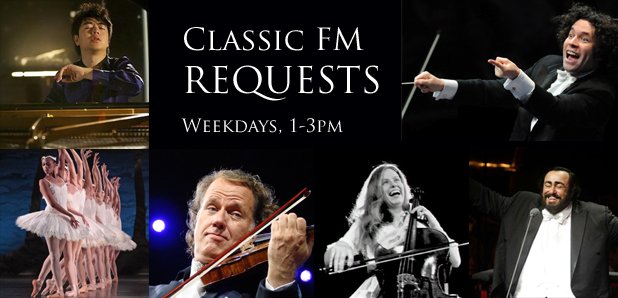 Whether you're celebrating a special occasion, working hard in the office, or enjoying some well deserved time off, let us know and you could have your favourite piece of classical music featured on Classic FM Requests.
How to make a request
Contact us by filling in the form below or:
Phone: 03457 491812
Text: 61812
Or post your request on Facebook.com/ClassicFM , Twitter.com/ClassicFM or on our Instagram or Snapchat pages.
Here are a few recent requests
Emma from Eastleigh is getting married this summer and she'll be walking down the aisle to Pachelbel's Canon. She had a practice thanks to Classic FM.
Jean Eisler, a former pupil of Gustav Holst when he taught music at St Paul's School for Girls in London, celebrated her 100th birthday. Her nephew Robin asked Anne-Marie if she could play something from the St Paul's Suite which she happily did.
Richard in London opted for the Shostakovich Festive Overture as he finished a painting intended for this year's Royal Academy Summer Exhibition. Impressive.
Farmer Bill in Rutland who was busy lambing asked for Percy Grainger's Country Gardens.
Lynette had just returned from her zumba class and was ready to start celebrating her 73rd birthday – she felt like hearing Prokofiev's 1st Symphony.
Anna in the Wye Valley was pruning roses and fancied listening to one of Satie's Gymnopedies.
For Ed in west London, it was Bach's Toccata and Fugue as he made a batch of marmalade. (Ed, that is, not Bach...)
And Julia in Liverpool asked for a Strauss waltz as she struggled kneading a rather sticky brioche loaf.
Simply make your request using the form below and your chosen track could be played on air.