Win Mozart's complete works in a CD boxset worth over £300!
2 December 2016, 12:43
Mozart 225: The New Complete Edition Trailer
01:49
To mark the 225th anniversary of Mozart's death, we're giving away a limited-edition 200 CD boxset of his complete works, plus John Suchet's new book Mozart: the Man Revealed and Mozart: the Singles on CD. Enter the competition from 0:01 on 5 December 2016.
On Monday 5th December 2016, it's the 225th anniversary of the death of the great composer Wolfgang Amadeus Mozart. To mark this historic date, Classic FM is holding a Mozart Marathon. For 24 hours, we will play nothing but Mozart, while our presenters will take the opportunity to tell the story of his life.
Classic FM's Mozart Marathon: the highlights >
Mozart died at the age of 35. But he composed his first piece at the tender age of 5. Over his short life, he churned out over 600 works, with many pieces acknowledged as pinnacles of symphonic, concertante, chamber, operatic and choral music.
So, do you fancy owning every single one of them?
Decca Classics, Deutsche Grammophon and Salzburg Mozarteum Foundation have pulled together the most complete and authoritative edition of Mozart's works on 200CDs - and we're giving away this hefty boxset.
This individually-numbered limited edition is a fusion of the latest scholarship with 240 hours of benchmark performances from 600 world-class artists and state-of-the-art sound recording. It weighs a ton and is worth well over £300.
That's not all
We're also throwing in John Suchet's new book, Mozart: the Man Revealed and ANOTHER recording, Mozart: The Singles. Here's a snap of all those prizes together: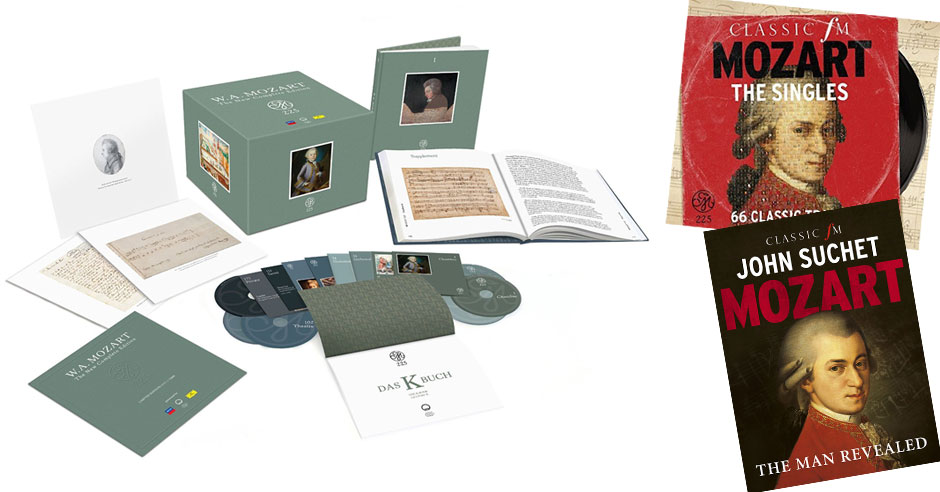 For your chance to win, simply answer the question below when the competition opens at 0:01 on Monday 5th December. And to get yourself in the mood, make sure you listen to Classic FM's Mozart Marathon all day today.