Paul Mescal can sing like Pavarotti and the Phantom – and now, Lloyd Webber wants a slice
20 May 2020, 15:52 | Updated: 20 May 2020, 15:56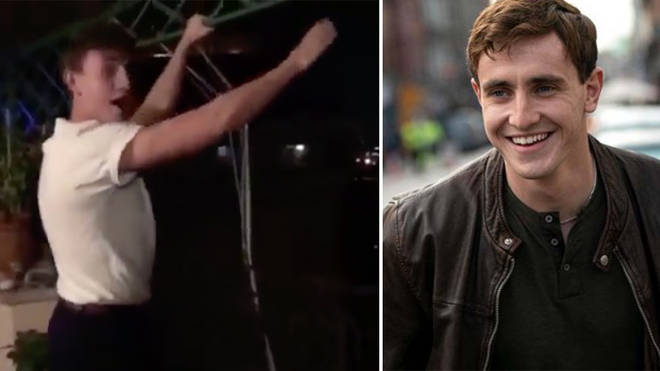 Connell Waldron can hit the high notes! Here are all of actor Paul Mescal's vocal ventures thus far, from channelling Pavarotti to a 'Phantom of the Opera' singalong in the making…
Just when you thought you couldn't stan Normal People any harder, Paul Mescal went and revealed his rather lovely singing voice. Yep, Connell Waldon has pipes.
From paying tribute to the legendary tenor Pavarotti with a balcony performance of 'Nessun dorma' and potentially getting roped into a musical theatre singalong with Phantom of the Opera composer Andrew Lloyd Webber, to his low-key piano videos on Instagram, here is all the evidence of the Normal People actor's musical talent thus far. Enjoy…
Read more: Paul Mescal can play piano and 'Normal People' fans are losing it >
Watch Paul Mescal channelling Pavarotti
Appearing on The Graham Norton Show recently, Paul was tasked with rewatching a clip of himself as he paid tribute to the legendary tenor, Luciano Pavarotti.
Norton played a video clip (watch below) showing Mescal channelling the opera star by singing the climax to 'Nessun dorma' from his Airbnb balcony in Rome. The clip was taken by another member of the Normal People cast at the end of their stint in Italy, where the scenes at Marianne's villa were filmed.
Mescal said: "I have been a big fan of el Pavarotti and around that time I had watched the Pavarotti documentary and had fallen viciously in love with the man."
Then, footage emerged of Mescal singing in 'Phantom of the Opera'
As a schoolboy in Ireland, Mescal took on the role of the Phantom in Andrew Lloyd Webber's famous musical.
Footage of Mescal singing, aged 16, in County Kildare school Maynooth Post Primary's 2012 production of The Phantom of the Opera has been driving the Internet wild.
Read more: Watch Andrew Lloyd Webber musicals for free during coronavirus closures >
News gets around fast on the Internet, and it wasn't long before Lloyd Webber picked up on the video and tweeted Mescal: "Hi Paul! I heard that you are part of the Phantom alumni, fancy a singalong?".
A bowled-over Paul – who is a self-confessed musical theatre geek – replied: "OMG is this a real thing".
@mescal_paul Hi Paul! I heard that you are part of the Phantom alumni, fancy a singalong? - ALW

— Andrew Lloyd Webber (@OfficialALW) May 17, 2020
Yes, would love to chat and maybe have a singalong?! - ALW

— Andrew Lloyd Webber (@OfficialALW) May 18, 2020
So, can Paul Mescal sing?
Paul Mescal has a great tone to his voice, and a strong tenor range. In the video of him channelling Pavarotti in 'Nessun dorma', he comfortably sustains the aria's concluding high B with some lovely, relaxed vibrato.
The Normal People actor, who trained The Lir National Academy of Dramatic Art in Ireland, has a natural musical ear.
There are some delightful videos on Mescal's Instagram page, in which he shows off his dexterity on keys. In the video above, he sings and plays a delicate rendering of pop singer Sia's 'Chandelier' at his home digital piano.