Definitively the best songs from Andrew Lloyd Webber musicals
13 July 2023, 11:55 | Updated: 15 September 2023, 15:22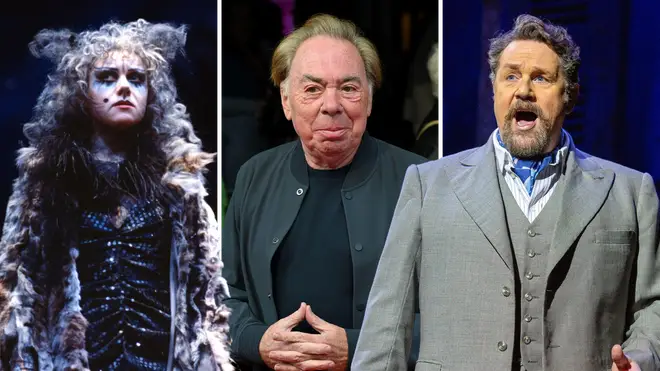 These are our all-time favourite melodies from Andrew Lloyd Webber's phenomenal body of work.
From Phantom of the Opera to Joseph and the Technicolor Dreamcoat, these are the Andrew Lloyd Webber tunes that *always* get lodged in our brains.
Read more: 10 best musicals by Andrew Lloyd Webber – ranked
Memory – Cats

A musical based on a 20th-century poetry collection? Why not?! Andrew Lloyd Webber's smash-hit musical Cats takes the somewhat unorthodox rote of setting poems from T.S. Eliot's Old Possum's Book of Practical Cats and stitching them together to create a plot.

The musical's most famous song is 'Memory', sung by Grizabella (performed by Elaine Paige in the premiere), remembering her glamorous former life. The lyrics are created from Eliot's 'Preludes' and 'Rhapsody on a Windy Night', but the soaring melody is vintage Andrew Lloyd Webber.

Read more: Jennifer Hudson's 'Memory' is the best thing about the Cats movie

Memory (Reprise) | Cats the Musical

Gethsemene – Jesus Christ Superstar

Continuing the theme of picking unexpected subject matter, let's turn to Jesus Christ Superstar.

In a mash-up which surely must have seemed bonkers at the time: this is a rock opera about the Christian story of the final days of Jesus Christ.

'Gethsemene' is a crucial moment for Jesus in the musical, as he wrestles with his doubts in the Garden of Gethsemene. His desperate falsetto cry: 'Why should I die' is guaranteed to give you goosebumps.

Read more: Andrew Lloyd Webber: wife, children, musicals and everything you need to know

Gethsemane - 2000 Film | Jesus Christ Superstar

Any Dream Will Do – Joseph and his Technicolour Dreamcoat

ALW's Joseph and his Technicolor Dreamcoat sets the standard for musical theatre written to be performed by community groups, youth theatres and schools. It's an intoxicating mix of satisfying harmonies for choirs and soaring ear-wormy melodies for the soloists.

For many people it's their first introduction to the glorious world of musical theatre – and what an introduction. 'Any Dream Will Do' is just one of the killer melodies on offer from Joseph.

Any Dream Will Do - 1999 Film | Joseph

Don't Cry for me Argentina – Evita

The life of an Argentine political leader from the 1950s might seem like a strange subject for a musical. But Andrew Lloyd Webber and Tim Rice's concept album about the life of Eva Perón – which was later turned into a film starring Madonna – went on to become of their best-loved pieces of work.

And this plaintive ballad, 'Don't Cry for me Argentina' is one of the key reasons for its success.

Madonna - Don't Cry For Me Argentina (Official Music Video)

Think of Me – Phantom of the Opera

No Andrew Lloyd Webber list would be complete without something from Phantom, and this has to be one of the musical's best tunes.

The tune, sung by Christine, begins with a simple repeated phrase before soaring up to stratospheric heights, supported with swelling strings. The melody is taken up by the her childhood friend, Raoul. We watch him discover his love with her, while falling for her ourselves.

Think of Me - Andrew Lloyd Webber's The Phantom of the Opera

Love Changes Everything – Aspects of Love

'Love Changes Everything' comes from a lesser-known Lloyd Webber musical, Aspects of Love. But the first performance starred one Michael Ball, and he has gone on to make the song something of a calling card. It's a simple and memorable melody with lyrics that tug at the heart-strings – practically a Lloyd Webber trademark.

He released the song as a single in 1989 and it stayed in the pop singles charts for a massive 14 weeks, reaching Number 2.

Read more: 16-year-old Ukrainian violinist's poignant 'Love Changes Everything' with Danielle De Niese

Love Changes Everything - Royal Albert Hall | Aspects of Love

Jellicle Cats – Cats

Another entry for Cats – because it's a stone-cold classic (other opinions are available). This is the Overture to Cats, and as the first thing you hear in a Broadway blockbuster… it is bold.

There's a fragment from the clarinet, then silence, another fragment from the flute, a snatch of melody on a brass instrument. But there's nothing that's recognisably the main tune until 30 seconds in. And it's only then we start getting an idea of which key we're even in the region of.

But somehow, it makes the catchy chorus all the more irresistible when it makes it first appearance at 50 seconds in.

Jellicle Songs (Part 1) | Cats the Musical

Go, Go, Go – Joseph

There's clearly something about the Bible that inspires Andrew Lloyd Webber's best melody ideas. Because this is another absolute cracker.

In between the narrator's verses, the chorus sings: "Hang on now Joseph, don't give up Joseph, fight till you drop. We've read the book and you come out on top."

Like an Ancient Greek chorus, they are outside the action and comment on the story. Andrew Lloyd Webber proves he is, basically, a latter-day Aeschylus.

Go Go Joseph - 1999 Film | Joseph

All I Ask of You – Phantom of the Opera

The romantic musical theatre duet, this is Raoul's gentle love song in The Phantom of the Opera, presented to Christine as the Phantom watches in envy from the shadows.

Lloyd Webber distances himself from the golden-age musicals of Rodgers and Hammerstein in his rich, sweeping, textured score for Phantom, taking deep inspiration from Romantic opera and its emotional climaxes. The composer even came up against a bit of trouble in the early 2000s, when Giacomo Puccini's estate sued him for similarities between 'All I Ask of You' and 'Music of the Night' and the 1910 opera La fanciulla del West – a dispute that was eventually settled out of court.

Have a listen to the similarities below...

All I Ask Of You - Emmy Rossum, Patrick Wilson | The Phantom of the Opera Soundtrack

Puccini: La Fanciulla del West / Act 1 - Quello che tacete

Unexpected Song – Song and Dance

Song and Dance isn't one of Lloyd Webber's best known musicals. Its structure is an unusual one – the first act told entirely in 'Song', and the second entirely in 'Dance'. The unifying theme? Love, of course...

'Unexpected Song' is a belter of a soprano ballad, about the delight of falling suddenly and deeply in love. It was originally sung on Broadway by Bernadette Peters in 1984, and was released the same year as a single by Sarah Brightman.