14-year-old chorister Malakai Bayoh, signed to Pavarotti's label, releases first single 'Pie Jesu'
15 June 2023, 00:01 | Updated: 15 June 2023, 15:21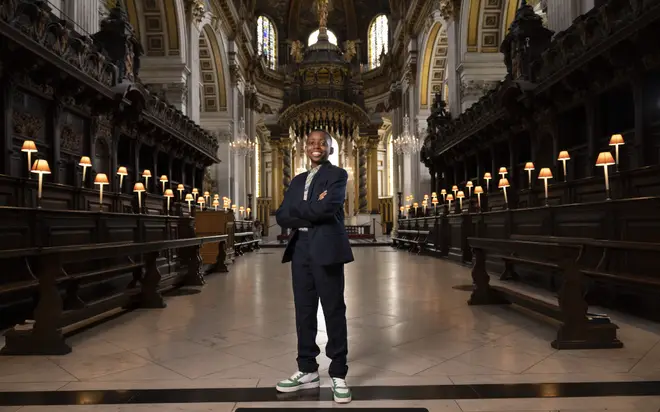 The golden high notes of Malakai Bayoh, a finalist on Britain's Got Talent and viral sensation since his Christmas duet with Classic FM's Aled Jones, have been recorded in an album with Universal Music.
The astonishing young treble singer Malakai Bayoh has been signed to Universal Music, the record company of Pavarotti, with an album coming this July.
Golden, featuring collaborations with Andrew Lloyd Webber and Sir Karl Jenkins, will be released on Universal Classics and Jazz in association with Classic FM.
The album's lead single, released today on 15 June (watch below), is Lloyd Webber's 'Pie Jesu', which the young star performed in his first televised audition on Britain's Got Talent. It will receive its radio premiere in Alexander Armstrong's morning programme on Classic FM.
"I can't believe my dream has come true," Malakai said, "And I'm signed to the record company with the biggest opera stars in the world!" Universal has signed some of the biggest classical artists in history including Andrea Bocelli and the late Luciano Pavarotti.
Read more: Who is Malakai Bayoh? Get to know classical music's new star treble
MALAKAI sings 'Pie Jesu' from his debut album GOLDEN ✨
Malakai, who is only 14 years old, has seen a meteoric rise to fame, from a teenage chorister to emerging as the nation's favourite new classical voice.
Since appearing on Britain's Got Talent, he has been overwhelmed with international interest, including a personal message of congratulations from the President of Sierra Leone.
Malakai has also won the attention of Hollywood, singing on the soundtrack of the upcoming Netflix film Maestro, directed by and starring Bradley Cooper, and produced by Hollywood greats Martin Scorsese and Steven Spielberg, about the life of Leonard Bernstein.
"You are not just good, you are spectacular," Simon Cowell declared after hearing his angelic tones on the primetime TV show.
Classic FM's Aled Jones, his duet partner over Christmas in the viral 'O Holy Night', which alongside their duet of 'Walking in the Air' received a stratospheric 25 million views, described his vocals as "a God-given talent".
Read more: Aled Jones sings 'O Holy Night' with star 12-year-old treble in Christmas duet
Aled Jones and 12-year-old treble Malakai M Bayoh sing stunning 'O Holy Night' duet | Classic FM
Golden, a collection of both classical and classic songs, is in reference to Cowell's reaction to Malakai's original BGT audition. "There's only one word for it… GOLDEN!" as he pressed the Golden Buzzer. His audition has since garnered over 55 million views.
Alongside Lloyd Webber's 'Pie Jesu', Malakai has recorded Sir Karl Jenkins' 'Benedictus' after the acclaimed Welsh composer offered to re-arrange the movement from The Armed Man: A Mass for Peace specially for him. This is the first time Sir Karl's timeless 'Benedictus' has been recorded by a treble.
The album also includes his peerless rendition of Puccini's 'O mio babbino caro', which he sang live in the semi-finals reducing judge Bruno Tonioli to tears. Tonioli remarked: "It is incredible to have a boy like you producing this divine sound."
'Caruso' by Lucio Dallo, made famous by Andrea Bocelli, also features on the album, which Malakai sang in the live final. Once again receiving glowing reviews from the judges: "I'm bursting with pride right now", Cowell said. "It was absolutely beautiful from start to finish."
His performance of Handel's 'Lascio ch'io pianga', which he sang in his stunning Royal Albert Hall solo debut this year at Classic FM Live, is also on the album.
Read more: Treble Malakai Bayoh sings sublime Handel aria to 5,000-strong audience at Royal Albert Hall
Young treble Malakai Bayoh's astounding Handel solo debut | Classic FM Live
Of the signing, Executive Producer & A&R Manager Helen Lewis says: "Malakai's soaring, honeyed voice has the most extraordinary effect on those who hear him sing. A talent like his is incredibly rare. He has brought so much joy to the whole team at Universal Classics & Jazz, and we can be sure there are many more milestones to come for this young star."
Malakai started singing at the age of seven with St George's Cathedral Choir in London, and attends the state school Cardinal Vaughan Memorial School in west London, singing with its acclaimed choir Schola Cantorum. He made his operatic debut in Mozart's opera The Magic Flute at the age of 12, and appeared as a soloist at the Royal Opera House aged 13.
Director of Music at Malakai's school, Scott Price, who also conducts on Golden, says: "Malakai has a unique, wonderfully expressive and flexible voice. He possesses intense musicianship and a real gift for storytelling – it is always a joy to hear him sing and it has been a real pleasure to help him prepare for this recording".
Golden will be released in July on Universal Classics and Jazz, in association with Classic FM.
13-year-old treble Malakai Bayoh sings virtuosic Mozart in Royal Albert Hall debut | Classic FM
What is the 'Golden' tracklist?
Pie Jesu – Andrew Lloyd Webber
Benedictus – Karl Jenkins
O mio babbino caro – Giacomo Puccini
Ombra mai fu – George Frederic Handel
Somewhere – Leonard Bernstein
Amazing Grace – Trad.
Lascia ch'io pianga – George Frederic Handel
Caruso – Lucio Dalla