10 best musicals by Andrew Lloyd Webber – ranked
13 September 2023, 14:53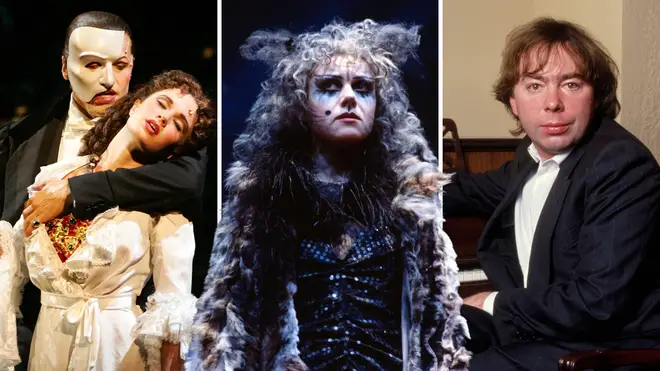 Andrew Lloyd Webber is one of musical theatre's most prolific voices. His famous stage works range from biblical to animal – we rank his 10 best.
Since Joseph and the Amazing Technicolour Dreamcoat in the 1960s, Andrew Lloyd Webber has made a name for himself as King of the killer show tune, penning some of musical theatre's catchiest melodies and most rousing choruses.
The subject matter he chooses is startlingly unpredictable. Who would have thought that an obscure Victorian gothic novel – Phantom of the Opera – or a collection of whimsical T.S. Eliot poems about feline psychology – Cats – would be the basis for two of the last half-century's biggest musical hits?
The last 25 years have seen Lloyd Webber made a life peer, making him a Baron. He is the winner of 45 awards including seven Oliviers, seven Tonys and four Grammys, and owns a number of successful West End theatres through his theatre company.
And so, with more than 60 years of music to choose from, here are 10 of Lloyd Webber's all-time greatest shows!
Read more: Definitively the best songs from Andrew Lloyd Webber musicals
Love Never Dies

Love Never Dies, the fan favourite sequel to Lloyd Webber's megahit Phantom of the Opera, was first previewed on the West End in 2010, but closed soon after and never made it to Broadway.

The musical was deemed to lack a bit of meat on the bone. But what it lacks in plot, it makes up for in music. The show has a sweeping score and soaring ballads which, when performed by the likes of Sierra Boggess and Ramin Karimloo, transport it to tenth place on the all-time best list.

'Love Never Dies' Anna O'Byrne | Love Never Dies

Aspects of Love

A revival of this 1989 musical reopened in London this year starring Michael Ball and Danielle De Niese but will soon be closing in West End, three months ahead of schedule.

Its slightly sinister plot includes multiple love affairs with a large age gap. But it has a great energy and a lovely piano-led score, with a strong hit song 'Love Changes Everything' – if you can turn a head to the subject matter…

Read more: Ukrainian violinist plays 'Love Changes Everything' with Danielle De Niese

'Love Changes Everything' Michael Ball | Aspects Of Love

School of Rock

Lloyd Webber's rock musical had a strong foundation from the off, being based on the 2003 movie hit starring Jack Black as Dewey Finn, a rock guitarist-cum-substitute teacher.

It's a classic lovable underdog story, featuring the almighty banger 'Teacher's Pet', as well as an original new rebel anthem, 'Stick it to the Man'. With a time-tested combination of driving rock rhythms, and soaring musical melodies, this is signature Lloyd Webber and remains a firm audience favourite.

Alex Brightman & the Cast Sing 'Stick it to the Man' From Broadway-Bound SCHOOL OF ROCK

Cinderella

Cinderella was Lloyd Webber's 13th new musical, and it earned the composer some of the best reviews of his career. Its leading lady, powerhouse musical theatre star Carrie Hope Fletcher, delivers the heart-wrenching ballad 'I Know I Have a Heart' with aplomb, and the book, by Oscar-winning Emerald Fennel (The Crown) is funny and charming.

It was a musical hit by bad timing – not aided perhaps by its renaming to Bad Cinderella for a Broadway crowd – and Covid closures, over which the composer threatened to go to jail to save his show. But after that incredible run on Broadway, we reckon Lloyd Webber went out on a musical high.

Andrew Lloyd Webber & Carrie Hope Fletcher - Bad Cinderella (Official Music Video)

Cats

Neatly fitting into the Venn diagram of completely mad and total genius, Cats marked the end of Lloyd Webber's run of successful shows with lyricist Tim Rice, instead being based on lyrics from T.S. Eliot's 'Old Possum's Book of Practical Cats'. It's filled with memorable moments including the glorious power ballad 'Memory'.

Cats has made headlines in the last few years following a Hollywood film adaptation by which Lloyd Webber said he was so "emotionally damaged", that he had to buy a therapy dog. "The one good thing to come out of it is my little Havanese puppy," the composer dryly told a journalist.

Read more: Andrew Lloyd Webber didn't like the Cats movie: 'The whole thing was ridiculous'

'Memory' Elaine Paige | Cats The Musical

Sunset Boulevard

Sunset Boulevard is a deliciously intense adaptation of Billy Wilder's 1950 film. Coming back to the West End this year starring Nicole Scherzinger as the immortal Norma Desmond, its hit songs 'As If We Never Said Goodbye' and 'With One Look' put it up there with Lloyd Webber's best. And no one does it like Glenn Close...

The Fabulous Glenn Close Sings 'With One Look' | Sunset Boulevard | The Shows Must Go On!

Joseph and the Technicolour Dreamcoat

Now we move into the reliable realm of the longlasting Lloyd Webber-Tim Rice partnership. After meeting as teenagers, the duo would work prolifically together in a fruitful musical collaboration which produced three hit shows: Evita, Jesus Christ Superstar, and Joseph.

Based on the Bible's book of Genesis and originating from a cantata written for school choir, it's one in a line of Lloyd Webber musicals with unpredictable origins that work startlingly well in musical form. Joseph is jam-packed with catchy tunes including the wide-eyed ballad 'Any Dream Will Do', and is a favourite at school productions today.

Andrew Lloyd Webber, Jason Donovan - Any Dream Will Do

Evita

Did you know this Tony-winning show started as a rock opera concept album? The unlikely 70s hit show, containing the heartaching 'Don't Cry For Me Argentina' – which repeats rather a lot in various iterations throughout the musical, not that we're complaining – has yet another unlikely subject matter, being based on the wife of an Argentinian president.

'Don't Cry For Me Argentina' Elaine Paige | EVITA

Jesus Christ Superstar

It's hard to imagine this being written today, but boy does it have an impact. This adrenaline-pumping rock opera is well within the Lloyd Webber-Tim Rice partnership, and before it was taken over by Cats in the 80s and 90s, it was the West End's longest running musical.

The music is thrilling, especially the moment Lloyd Webber forgot his 'Jesus' actor was human and gave him a stratospheric G5 to sing at the climax of 'Gethsemane'.

Gethsemane (Steve Balsamo) - 'Musicals in Ahoy' Concert 2004 | Jesus Christ Superstar

The Phantom of the Opera

The most successful British musical in history, The Phantom of the Opera is an 80s extravaganza of decadent visuals and ageless music. It's by far Lloyd Webber's strongest score, from the delicate soprano plea 'Think Of Me' to the bare-chested, full throttle 'The Point of No Return'. Devastatingly romantic, it's been an incredible showcase over the years for some of the most dizzying soprano voices – from Lesley Garrett to Sierra Boggess.

Read more: Cellist HAUSER plays 'Phantom of the Opera' on Lloyd Webber musical's 35th anniversary

The Point of No Return/All I Ask Of You | Andrew Lloyd Webber's The Phantom of the Opera Soundtrack