Andrea Bocelli concert from empty Milan cathedral is largest classical live stream in YouTube history
15 April 2020, 14:53 | Updated: 15 April 2020, 14:56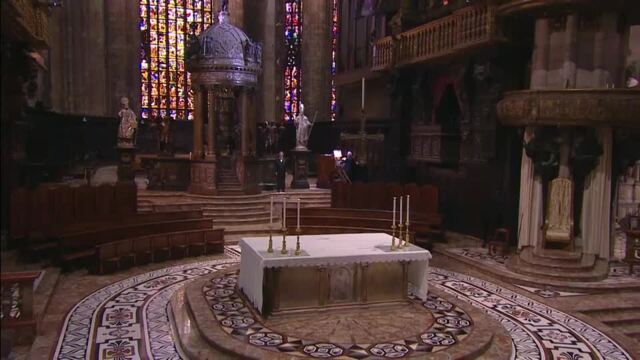 Watch as Andrea Bocelli sings in Milan's empty Duomo cathedral
Andrea Bocelli has made history – his Milan cathedral concert is the biggest ever classical live stream, with more than 28 million views from across the globe in its first 24 hours.
At a time when we all need music to give hope and comfort, Andrea Bocelli gave us a moment on Easter Sunday that seemed to rise above everything else happening in the world.
The great Italian tenor live-streamed a concert from an empty Duomo cathedral in Milan, accompanied by the cathedral's organist Emanuele Vianelli.
On Sunday evening, the event trended at number one on YouTube, as millions came together to share the music. There were 2.8 million peak concurrent viewers, making it one of the biggest musical live stream performances of all-time and the largest simultaneous audience for a classical live stream in YouTube history.
After 24 hours, 28 million people had watched the concert.
Speaking after the concert, Bocelli said: "I am moved and delighted to have received such an overwhelming reaction, that has gone beyond our highest expectations.
"It was an immeasurable honour and privilege to lend my voice to the prayers of millions of people, gathered in a single embrace."
Entitled 'Music For Hope', Bocelli's concert featured sacred pieces from Rossini, Mascagni, Gounod and Franck, and the traditional spiritual 'Amazing Grace'.
See the full programme of Andrea Bocelli's 'Music for Hope' concert >
Andrea Bocelli: Music For Hope - Live From Duomo di Milano
Much of the world has been under COVID-19 lockdown for weeks. Friends and families have been separated, bustling communities quietened, and dedicated health-care and frontline workers exhausted in their efforts to keep us safe.
It feels like, more than ever, this is a time when we need the comfort, solace and togetherness music and art can bring.
And there has been an incredible outpouring of creativity from the world's musicians – from solo living room concerts to incredible multi-tracked symphonies from orchestras in quarantine.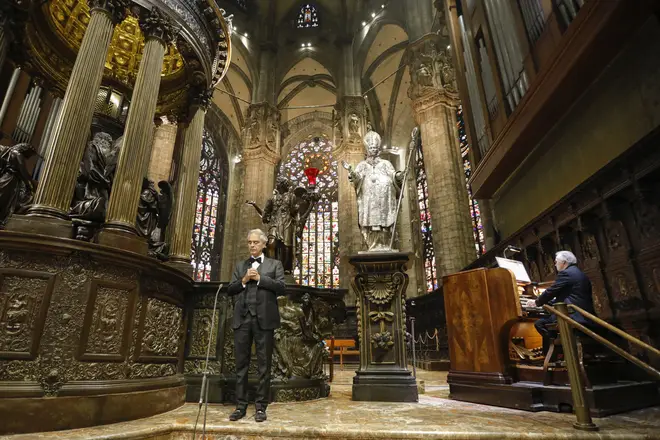 Responses to Bocelli's concert on social media testify to the power of the music and unity of the moment.
@AndreaBocelli is singing to the world and my heart is weeping.
"I believe in the power of music to bring us together"
So do I Andrea, and I cannot thank you enough for using your voice to bring our hearts together today

— Ana (@AnarchyAngel11) April 12, 2020
Such a beautiful concert of hope from AndreaBocelli. Music can leave you with Hope & love despite the unknown times we find ourselves in. 🎵🎶 pic.twitter.com/CsKDmHDbAl

— fionaebrown (@fionaeb1980) April 12, 2020
One of the most powerful moments I've ever witnessed in my life: Andrea Bocelli singing Amazing Grace to an empty Duomo Cathedral plaza in Milan with a message of hope on Easter Sunday for all those affected globally by the 2020 Coronavirus outbreak #MusicForHope pic.twitter.com/EJn4Hgnddg

— Jon Hartley (@Jon_Hartley_) April 12, 2020
On Tuesday 14 April, Classic FM is featuring music from the concert throughout the day. After 10pm you can hear Bocelli's performance of Franck's Panis Angelicus on Smooth Classics with Margherita Taylor.