Watch this young violinist cover Slipknot's 'Unsainted' beautifully
7 October 2019, 14:08 | Updated: 8 October 2019, 12:19
Slipknot on the violin? Yep, it really works – watch this talented young violinist's rendition of Slipknot's nu-metal track.
A young violinist has gone viral on YouTube after sharing a stunning classical cover of Slipknot's 'Unsainted'.
In the video (watch above), we see the Singapore-based musician lift up her violin, ready to rock out to the nu-metal track – which featured as the lead single on Slipknot's recent album, We Are Not Your Kind.
Also known as M Drako to her thousands of online followers, she starts off with vibrato passages accompanied by a haunting choir arrangement, before the band's thundering percussion kicks in.
Then, we hear jarring staccato notes and an eerie-sounding glissando – leading us perfectly to Corey Taylor's angst-ridden vocals.
Read more: Masked cellist covers Slipknot's 'The Devil In I' – and it's terrifyingly good >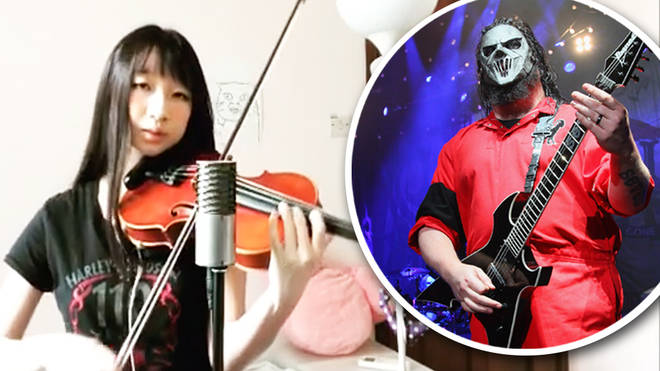 Broken arpeggios and speedy scalic runs give the piece a sense of urgency, while the song's B minor key lends itself well to bitter lyrics.
In the caption to her Instagram post, she says: "Composing all the violin parts was pretty taxing yet fulfilling.😂"
It's not the first time we've seen a classical-metal crossover lately – could there be a new trend emerging in the classical world?
Read more: 20 of the best rock and classical crossovers >
Talented Greek cellist, SugarCello, also treated us to a terrifying good version of Slipknot's 'The Devil in I', earning him thousands of fans overnight:
In her YouTube bio, M Drako describes herself as: 'a Strings Club reject messing around on youtube instead', and has shared several other classical-metal covers – including hit tracks by 'Lamb of God' and 'Avenged Sevenfold'.
Despite her affinity towards nu-metal, it would seem the young string enthusiast also has a much softer side and encourages her fans to donate money to Singapore's animal charity, Animal Lovers League.
Excellent work.