Who wrote The Addams Family theme tune? The composer behind the iconic music
8 August 2019, 16:47
They're creepy and they're kooky, mysterious and spooky – yes, that's right, the Addams family are back once again with a new animated film. But who wrote that unmistakable theme tune?
MGM has just released the new trailer for The Addams Family movie – and it looks (and sounds) every bit as strange as you'd hope.
In the clip (watch above), the opening to Bach's 'Toccata & Fugue in D minor' sets an ominous tone for a stormy morning, before we're greeted by the vivacious Morticia Addams, voiced by Charlize Theron.
Then, we meet the rest of the macabre family – Morticia's peculiar children, Pugsley (Finn Wolfhard) and Wednesday (Chloë Grace Moretz), along with her oddball husband, Gomez (Oscar Isaac).
Released later this year, the animated black comedy tells the story of the bizarre bunch as they adjust to life in 21st century New Jersey – with a few bats, torture devices and torpedos thrown in for good measure.
Towards the end of the trailer, we hear a local yell: "These people are monsters, they'll ruin the neighbourhood!", before the fun really begins when Gomez (Nick Kroll) says: "Let's show them what it means to be an Addams..."
Canadian composers Mychael and Jeff Danna put together the soundtrack for the frightening film – and it features that unmistakable Addams Family theme tune. But who actually wrote the original?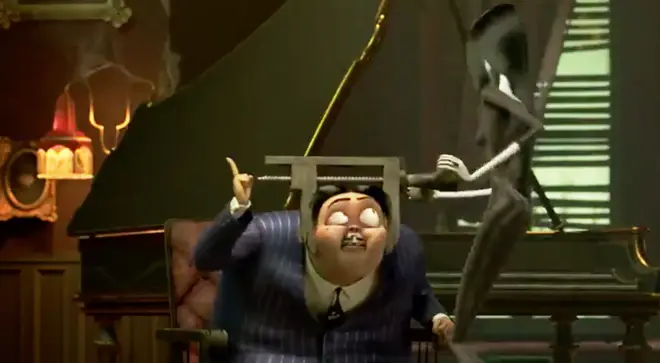 Who wrote the theme tune to The Addams Family?
Brooklyn-born TV and film composer, Victor Mizzy, was the mastermind behind the iconic melody we've all come to know and love – and with ghouls galore, he knew he had to write a score that would reflect The Addams Family's eerie themes.
His original version featured in David Levy and Donald Saltzman's 1964 black and white TV series of the same name, which was based on characters from Charles Addams' New Yorker cartoons.
Written in C major, the main theme is defined by a repeated figure played by the harpsichord and plenty of rhyming lyrics – "neat", "sweet", "petite".
And of course, more "finger-snapping" than you can shake a bat at.
In fact, Mizzy was very specific about how each member of the cast should be directed to click their fingers and wanted to make these differences apparent in the recording.
The composer's other work also includes several top 20 hits during the '30s and '40s, including Les Brown and Doris Day's single, 'My Dreams Are Getting Better All The Time', and catchy themes for Shirley Temple's shows.
Who else is in the new Addams Family?
Written by Matt Lieberman, the forthcoming film's stellar cast also includes Snoop Dogg, providing the voice of It, Bette Midler as Grandma, and Allison Janney as Margaux Needler.
The Addams Family is being released in UK cinemas on 25 October 2019.