Watch Bette Midler perform 'The Place Where Lost Things Go' at the Oscars 2019
25 February 2019, 13:59
Midler stood in for Emily Blunt at this year's Oscars ceremony, singing 'The Place Where Lost Things Go' from Mary Poppins Returns – and she did an absolutely sterling job.
Bette Midler, herself a two-time Best Actress nominee, stepped in for Emily Blunt at last night's Oscars ceremony.
Accompanied by friend and Mary Poppins Returns composer Marc Shaiman on piano, Midler performed 'The Place Where Lost Things Go' with warmth and grace.
The song, by Marc Shaiman and Scott Wittman, is performed by actress Emily Blunt in the sequel to Mary Poppins and was nominated for Best Original Song at the ceremony.
The pair later lost out to 'Shallow', the title track from A Star is Born written by Lady Gaga and Marc Ronson.
Watch: Lady Gaga and Bradley Cooper perform 'Shallow' at the Oscars >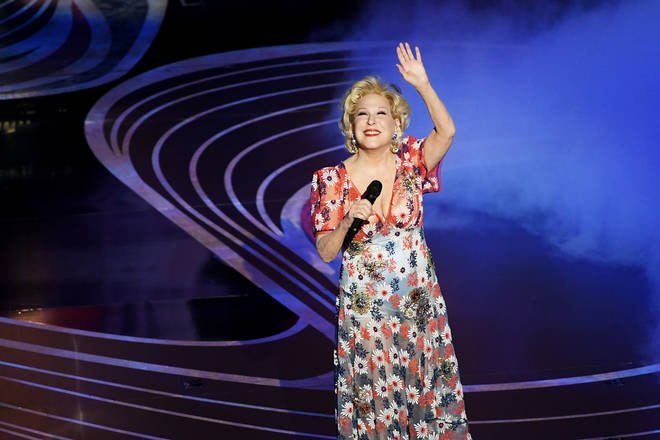 Emily Blunt has said in recent interviews that she suffers from stage fright, revealing she was "intimidated" by the idea of filling Julie Andrews' shoes in her singing role in Mary Poppins Returns.
She did not attend the ceremony, after receiving no nominations for her performance in Mary Poppins Returns or A Quiet Place.
Midler, a long-time friend of composer Marc Shaiman, announced the news that she would be "chanteusing" (that's singing) the track on Twitter last Sunday.
So, (drum roll) Ladies and Gentlemen, I will be chanteusing (that's singing) on the Oscars on Feb 24...the nominated song from "Mary Poppins"..."The Place Where Lost Things Go" ...so excited!!

— Bette Midler (@BetteMidler) February 17, 2019