'It's embarrassing and unfair,' says violist made to carry instrument on her lap during a Ryanair flight
19 July 2018, 12:35 | Updated: 19 July 2018, 13:19
A musician travelling on a Ryanair flight claims she was made to remove her instrument from its case and carry it on her lap, despite check-in staff telling her she would be allowed to take the case on board.
Romanian violist Marie-Jeanne Mai-Antal was travelling from Brussels South Charleroi to Bucharest airport, when airport staff at the gate refused to let her take her viola and its case on board.
She claims the incident occurred despite having checked Ryanair's musical instrument policy, and paying a six euro fee for an extra piece of hand luggage.
"When the [check-in staff] saw that I had an instrument, they told me I needed to buy priority boarding for six euros," Ms Mai-Antal told Classic FM. "I paid, and they gave me an extra piece of hand luggage and told me it would all be fine."
"At the final ticket check at the gate, there was a man in front of me in the queue with baggage not dissimilar in size to my viola case – but still bigger. The lady was nice and let him on with the baggage. But then she saw me with the instrument, and said I couldn't bring it on board.
"On the Ryanair website, it says cellos, double basses and harps are not allowed. But my instrument is a viola. There are only three instruments that need a separate ticket.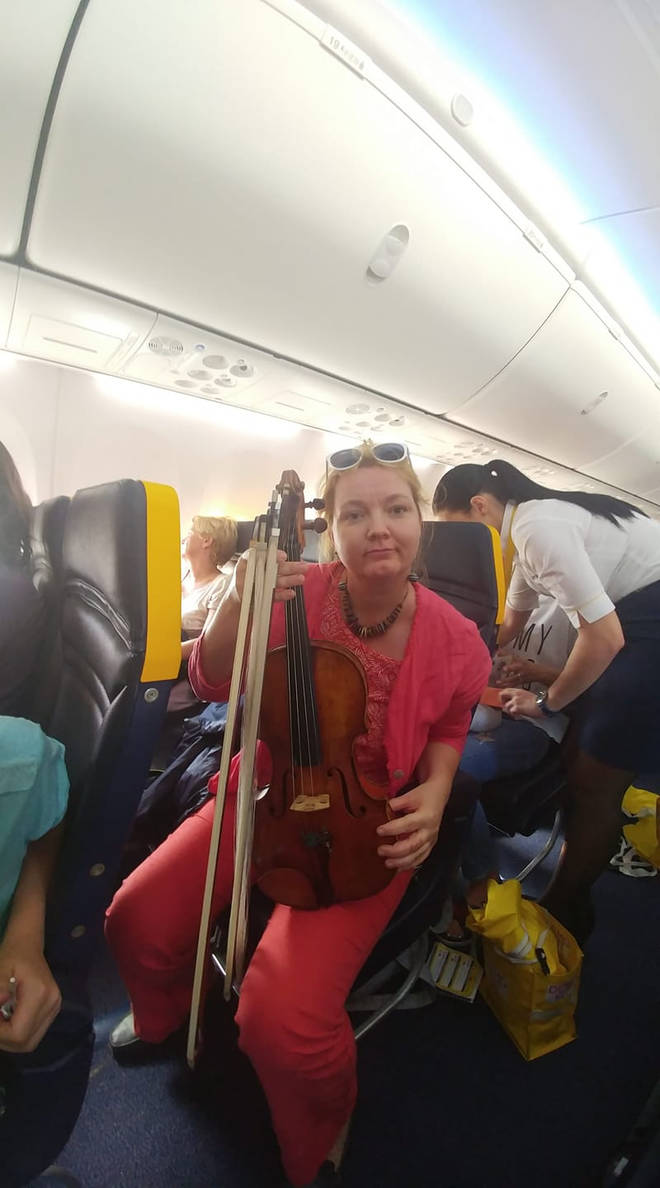 "I spoke to another assistant, who said she would call somebody. She called, and finally after 10 minutes, somebody came and she told me, 'No, it's impossible, you leave the viola with us or you don't fly'.
"I told her that I had to fly, because I had a concert the day after with an orchestra in Beirut. I showed her my viola, and showed her how small it is. She then told me I could take the instrument on board, but the case would be kept in the hold.
"They don't understand it's not our fault. It's really embarrassing and not fair. On board, I was worried about my instrument because there was turbulence, the air was too hot, and I needed to go to the toilet. I couldn't eat or drink – I stayed with my instrument in my arms. I was stuck."
An airline refused to let this orchestra on board with their instruments – and they protested in the best way
A spokeswoman for Ryanair told Classic FM: "Thousands of customers travel with Ryanair carrying musical instruments on a weekly basis without issue and as per our terms and conditions of travel, only customers who have booked priority boarding are permitted to bring two pieces of hand luggage on board with them. If a musical item (or its case) such as a guitar, violin or viola exceeds our cabin baggage dimensions, it may only be carried in the cabin if a seat for it has been reserved and the appropriate fare paid.
"While we regret any inconvenience caused, this customer had not booked priority boarding nor reserved a seat for her musical instrument in order to guarantee it could be carried on board. In this instance, the case of the musical instrument exceeded our cabin baggage dimensions, but this customer was permitted to add priority boarding (€6) to her booking and to keep her instrument with her instead of having to check it in the hold. Our full terms and conditions can be found here."
Marie-Jeanne's story follows a series of incidents involving instruments on airlines, including a viola da gamba which was completely destroyed on an Alitalia flight last year.
The violist hopes her story will make other musicians aware of the issue. She said: "Workers on planes need to know exactly what the rules are. There must be a solution – it's not our fault, musicians have to travel."