13-year-old Ukrainian refugee plays poignantly on public piano, one year since the war began
24 February 2023, 16:16 | Updated: 24 February 2023, 17:28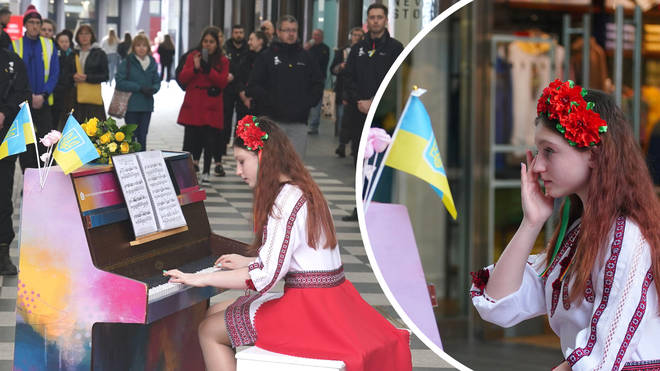 The young musician fled Ukraine at the start of the war last year, taking only the belongings 'near her hands'.
13-year-old Ukrainian refugee Alisa Bushuieva performed a selection of 'sad songs' on a piano in a Liverpool shopping centre this morning, marking one year since Russian forces invaded her home country.
Bushuieva and her mother, Svitlana, fled their home country of Ukraine after Russian forces began dropping bombs on their hometown of Kharkiv on 24 February 2022.
The teenager and her mum subsequently spent time in Ukrainian and Polish refugee camps, where Bushuieva would play the piano to lift the spirits of those around her.
Now living in Wirral in the UK, Bushuieva was invited to play the piano in the city centre of the Liverpool ONE shopping centre this morning, exactly one year after the invasion of her home country began. Listen to a clip of her moving performance below.
Read more: 12-year-old Ukrainian refugee lands a place studying piano at the Junior Royal Academy of Music
Bushuieva was asked to perform by the Place Strategy Director of Liverpool ONE shopping centre, Donna Howitt, who saw her musical talents.
Howitt told PA News: "Inviting [Bushuieva] to perform felt a respectful way to support her passion and join on the solidarity with the Ukrainian community on this day.
"I had the privilege of being able to visit Alisa and hear her play and I was totally moved – she is an incredibly talented young lady and has obviously done so much to support her friends and indeed her community too."
Before playing for the crowd that gathered around her piano, the teenager said, "this will be a very memorable occasion for me and something I will never forget".
After performing a selection of slow and reflective pieces, the teenager marked a one minute silence, which was held across the UK at 11am to mark one year since Russia's invasion of Ukraine.
Following the silence, Bushuieva played the Ukrainian national anthem, a work that has taken on a new meaning of hope and perseverance over the last year, with many musicians across the world performing the melody.
Read more: Ukrainian choir boy receives standing ovation after singing National Anthem in "really special moment"
According to reports, Bushuieva's performance carried an extra meaning to herself and her mother, who had recently learned that a close family friend had been killed amidst the fighting at home.
While living in Ukraine, the teenager studied at a music school, and has continued her lessons online since arriving in the UK.
Despite adjusting to life in the UK, Bushuieva shared with the Liverpool Echo that she "very much [wants] to go home".
She told the local newspaper that she decided to perform in the city centre today because by her own testament, "music helps people feel better. It saves lives and I need to make people feel better."
She added: "I'm very proud of my country that for a year during this hard time it still stands very strong. I hope that soon [the war] will be [over]".