Will Truro Cathedral Choir be a wild card on Britain's Got Talent?
28 May 2019, 12:33 | Updated: 28 May 2019, 13:45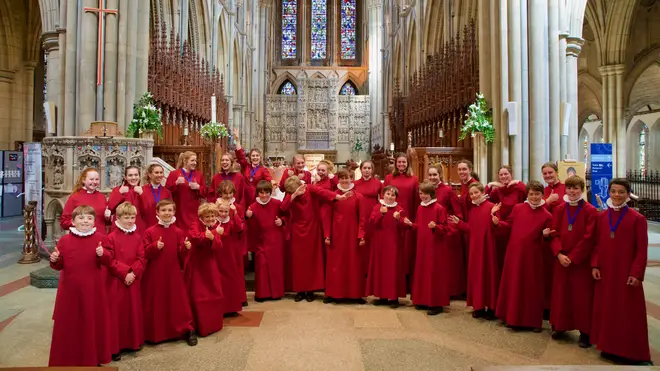 Truro Cathedral Choir received a standing ovation from all four judges during their BGT audition, but didn't make it through to the live finals: could they be a wild card?
Truro Cathedral Choir had a "once in a lifetime experience" when they auditioned on Britain's Got Talent last week.
After performing a traditional choral arrangement of Elton John's 'Can You Feel The Love Tonight?' they received a standing ovation from all four judges – Simon Cowell, Amanda Holden, Alesha Dixon and David Walliams – and adoration from fans around the country.
Related: Listen to David Walliams' Marvellous Musical Podcast
Head Chorister, Oliver, loved the experience and says, "Standing on stage looking at the four judges and the massive audience at the London Palladium was amazing. It was a bit surreal and I couldn't believe I was there!"
"The judges were all really nice and encouraged us before we had even sung. The whole day was amazing fun," Head Chorister, Benji, agrees.
"How amazing to see @TruroCathedral Choristers on Britain's Got Talent and what a fantastic performance they gave. Quite surreal to see all of those familiar Truro School and Prep faces on the big screen quite clearly enjoying their experience." https://t.co/8mVYBN7vSh

— Truro School (@TruroSchool) May 23, 2019
This gave us goosebumps!✨ Rewatch Truro Cathedral Choir's heart-warming performance of Elton John's, 'Can You Feel the Love Tonight?' 🎶⬇️ #BGThttps://t.co/9Cox2DDu02

— Britain's Got Talent (@BGT) May 20, 2019
After last night's live final, though, fans expressed disappointment that the choir didn't return. They may have received four yeses from the judges in their audition, and an "absolutely stunning" verdict from Simon Cowell, but that wasn't enough to guarantee a place.
"Well, we didn't go through to the next round for Britain's Got Talent but what a fantastic experience!" the choir has posted on their Facebook Page. "We are so grateful for all the public support we have received. Judges had tough decisions to make – we were thrilled to take part and so pleased to be given the opportunity to showcase the talent of our wonderful choristers! We wish all those remaining in the competition the very best of luck!"
Will Truro Cathedral Choir be a wild card entry in this year's 'Britain's Got Talent' final?
Viewers have been left unsure of Truro Cathedral Choir's fate in the competition, but some are holding out hope that the choristers could be this year's wild card.
"They might be the wild card where they bring back an act," social media user Sophie Stone said.
Charlie Miliffe agrees: "Don't the judges get a wild card so they might be back after all."
When is the final of Britain's Got Talent 2019 on TV?
The Britain's Got Talent 2019 final airs 7.30pm, Sunday 2 June on ITV.