Remembering Chaim Topol with his iconic rendition of 'If I Were a Rich Man' in Fiddler on the Roof
9 March 2023, 11:39 | Updated: 9 March 2023, 12:48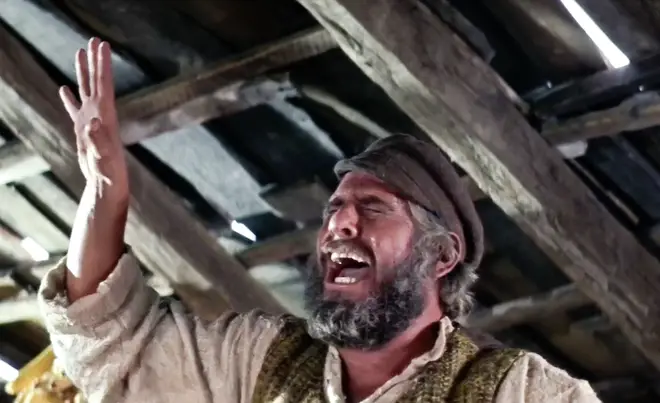 The Oscar-nominated star of the musical film, Fiddler of the Roof, died on 8 March 2023.
Israeli actor and singer Chaim Topol, best known for his performance as Tevye in the musical and film Fiddler on the Roof, has died in Tel Aviv, aged 87.
Topol always held a very unique place in 20th century music – few singers owned one role quite so iconically. It was a role he brought to the world in the hugely popular 1971 film, and then in over 3,500 stage performances over 50 years.
With news of his passing, many will be inspired to dust off Fiddler on the Roof DVDs, and searching for precious excerpts online.
The story of Fiddler on the Roof centres on Tevye, a milkman in the Ukrainian village of Anatevka. The town buzzes with Jewish community and traditions, with the constant threat of displacement from the tsar.
In the musical's most famous song, 'If I Were a Rich Man', Tevye, reflects on his labour-intensive, humble life, musing on a life of wealth and comfort. It really is one of the most charming songs of the 20th century – listen to Topol's remarkable rendition below.
Read more: Lin-Manuel Miranda fronts chorus of Broadway stars in Times Square tribute to Stephen Sondheim
Fiddler on the roof - If I were a rich man (with subtitles)
The musical was composed by Jerry Bock, with lyrics from Sheldon Harnick. There is so much genius in the writing, but it was always Topol that brought it to full glory, with musicianship, perfect comic playfulness, and glorious baritone singing.
Tevye's song begins a cappella, before the wonderfully evocative orchestration kicks in. From then, just sit back and bask in Topol's peerless lyricism to the spoken passages, perfect rhythmic placement, comic moments around poultry (special shout-out to his wonderful top notes, the high F, and roaring C-sharp at the end).
That half singing, half lyrical shout he has is just magical, and his performance won him the Golden Globe Award for Best Actor in a Motion Picture – Musical or Comedy.
Topol was only 36 years old at the time of the film, and with the help of makeup and costuming, was made to look 30 pounds heavier and 20 years older.
After the film, Topol was continuously cast as an on-stage Tevye, including on London's West End. He once claimed he had played his most famous character in more than 3,500 shows on stages around the world.
On how he transformed from a young actor into the 50-something-year-old Teyev, Topol told The Jerusalem Post in 2017: "As a young man, I had to make sure that I didn't break the illusion for the audience. You have to tame yourself.
"I'm now someone who is supposed to be 50, 60 years old. I cannot jump. I cannot suddenly be young. You produce a certain sound [in your voice] that is not young".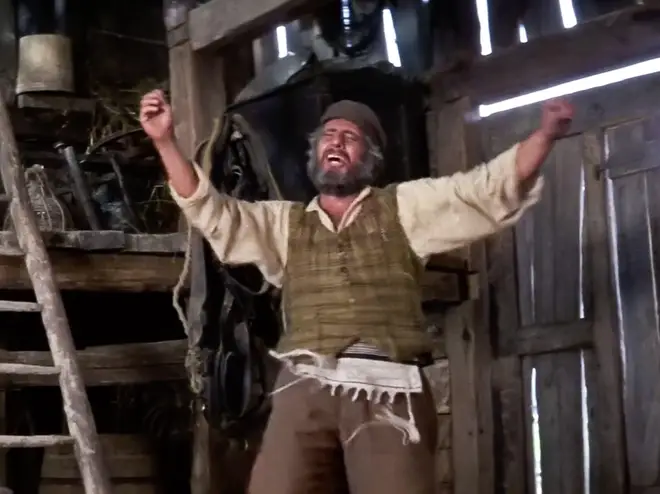 Born in Tel Aviv in 1935, Topol grew up in a working class neighbourhood, and his first job was as a printer at a local newspaper.
However, thanks to a theatrical side, identified by his school drama teacher, he later decided to pursue an acting career. This began with him becoming a member of the Nahal entertainment troupe. It was in the troupe that he met his wife, Galia Finkelstein, with whom he had three children – a son, and two daughters.
As well as his performances in Fiddler on the Roof, Topol was cast in prominent roles including Dr Hans Zarkov in Flash Gordon and Milos Columbo in For Your Eyes Only the 1981 James Bond film starring Roger Moore. In 2015, Topol received Israel's highest cultural honour; the Israel Prize for lifetime achievement.
While no reason for his death has been reported, Topol had been battling with Alzheimer's disease, which was revealed by his son Omer last year.
Topol truly was a talent and infectious musical presence, that enriched us all. He is survived by his wife, his three children, and multiple grandchildren.