Baby duets with Broadway star dad in video that's bringing people to tears
27 September 2023, 16:29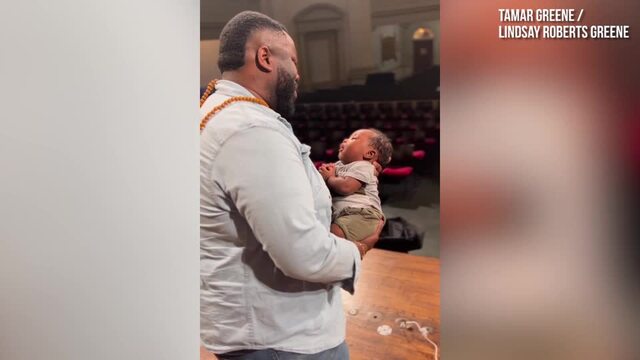 Man reacts as his baby sings Wheels of a Dream in sweet footage
"The most incredible moment of my life," said the Broadway singer when his three-month old son surprised him by reponding to his voice.
Tamar Greene is playing George Washington in the Broadway production of Lin-Manuel Miranda's Hamilton – but it's a sweet family moment on stage which has proved his latest hit on Instagram.
The singer was holding his three-month-old son on an empty stage, and softly singing to him with a piano accompaniment. The little baby listens in awe, and offers a little vocalisation of his own back to his father.
"This sweet surprise happened during rehearsal yesterday," the singer said as he posted the video. "Singing to my son and him singing back was the most incredible moment of my life."
Wife and mother Lindsay Roberts Greene, herself a Broadway star, was there to capture the tender moment of family music. "I'm sobbing. This is so pure. You sound incredible, as does your little one," said one viewer.
It's a very sweet and special moment as the baby responds to his dad's rich singing voice. Watch it above.
Read more: 10 best musicals by Andrew Lloyd Webber – ranked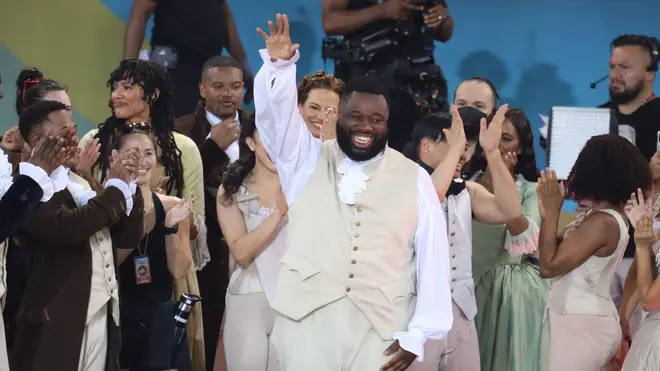 Tamar Greene was born in America to Jamaican and British parents. He has starred in Andrew Lloyd Webber's Phantom of the Opera and George Gershwin's Porgy and Bess. Greene also works as a vocal teacher.
The song he sings in the video comes from the musical Ragtime, written in the late 90s with music by Stephen Flaherty and lyrics by Lynn Ahrens.
The words of the song express tenderness and hope for the future: "I see his face, I hear his heartbeat," the lyrics say. The first verse concludes, "When he is old enough, I will show him America; and he will ride, on the wheels of a dream."
And as part of a family like this, there'll be lots of music in that wonderful ride too.