Solo soprano sings King Charles' favourite hymn 'Be Thou my Vision' in historic Hampton Court chapel
4 May 2023, 21:24 | Updated: 5 May 2023, 08:08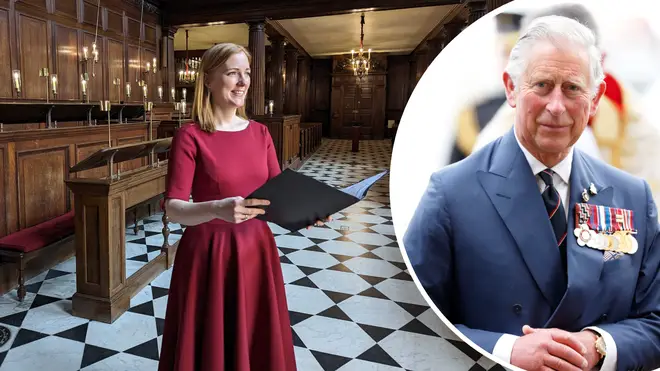 The beautiful melody 'Be Thou my Vision', an ancient Royal chapel, and a moment of music to mark our moment of history.
On the eve of the coronation, a hymn for His Majesty the King, sung in the beautiful acoustic of a near 500-year-old royal chapel.
'Be Thou my Vision', with its soaring melody sung to the Irish folk tune 'Slane', is known as one of the King's favourites.
The hymn will have an important place at Saturday's coronation. His Majesty has commissioned Be Thou my Vision - Triptych for Orchestra from a trio of composers, Nigel Hess, Roderick Williams and Shirley J Thompson, with the hymn's melody woven throughout.
It is sung here in its traditional form by English soprano Alexandra Stevenson. She is accompanied on the organ by the director of music of the Chapel Royal, Carl Jackson MVO.
Read more: What is the order of service for King Charles' coronation on 6 May?
Solo soprano sings King Charles' favourite hymn
The chapel is part of Hampton Court Palace, built in 1500s in a grand Tudor style, but added to over the centuries. The chapel's beautiful vaulted ceiling was installed by Henry VIII in the 1530s. It has what is regarded as one of the best acoustics for choral and church music.
Alexandra sings beside the choir stalls. Above her, at the back of the chapel, you can see the quarters from which King Henry and his wives (as they came and went) would sit with their court for services.
Situated on the banks of the Thames, Hampton Court, along with its chapel, is open to visitors and remains one of London's most-visited historic buildings.
The clergy and musicians of the chapel, are known as the Chapel Royal, which is part of the royal household. Over the centuries, the Chapel Royal has helped serve the spiritual and musical needs of the sovereign and the royal family.
Read more: Be Thou My Vision: what are the lyrics and who wrote the hymn?
The hymn, written by the early Christian Irish poet Dallán Forgaill in the 6th century, is one of the oldest in the world.
It's all a coming-together of ancient and modern, at a historic time where we also look ahead to a new royal era.