Ryanair passenger films baggage handler 'slamming' his musical instruments onto airport luggage belt
17 July 2023, 12:57 | Updated: 18 July 2023, 12:24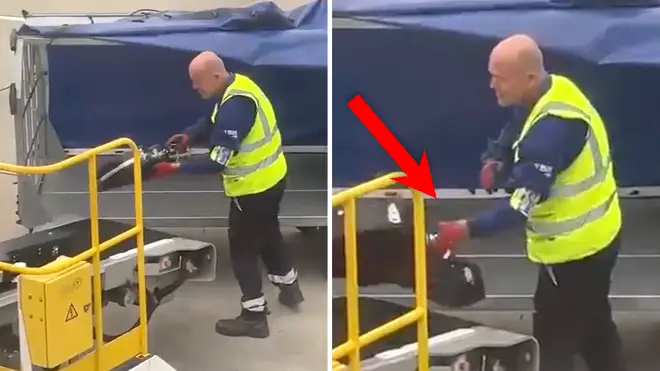 Musicians have rallied in fury around a clip of an airport baggage handler throwing musical instrument cases onto a conveyor belt.
Footage of an airport baggage handler "slamming" two guitars onto the luggage carousel of a Ryanair aircraft went viral over the weekend.
Musician James Elson, who was travelling to perform at a wedding, filmed the incident from the window of the stationary plane.
"Our fragile musical instruments being looked after – not," the guitarist tweeted alongside a video clip.
As the second case is launched onto the belt, another passenger on the aircraft can be overheard scoffing, and exclaiming, "Oh their equipment!"
Elson did not name the airport, but tagged Ryanair in his tweet. "To think the amount we paid for you to take them…" Elson added.
"Absolutely appalling customer service."
Read more: Polish airline told violinist to either store €5 million Stradivarius in hold, or not get on the plane
Our fragile musical instruments being looked after - not.@Ryanair, Blue Handling - absolutely appalling customer service.

To think the amount we paid for you to take them… pic.twitter.com/aWwHVlr4Ib

— James Elson (@Elson7James) July 14, 2023
Ryanair's musical instrument policy cites an "excess baggage fee" of €65/£65 for handling musical instruments.
For larger musical instruments, the airline requires passengers to pay a full additional fare to keep it on board. "Musical items such as a cello, guitar, violin or viola which exceed our cabin baggage dimensions may be carried in the cabin if a seat for it has been reserved and the appropriate fare paid," its policy states.
The video posted by Elson has had 5.8 million views on Twitter, and has ignited a mass discussion around the handling of musical instruments by airlines.
Political campaigner and singer, Feargal Sharkey, got involved in the conversation, sharing the video and adding: "Oops!"
One user observed: "It actually took more effort to lift it higher and slam it down."
Read more: 10 tips for flying with your musical instrument
It actually took more effort to lift it higher and slam it down. Lol.

— Khalifa Al Haroon - Mr. Q (@iloveqatar) July 15, 2023
Scottish singer Iona Fyfe shared the clip on her Twitter, adding: "This is an appalling way to treat anyone's luggage, let alone a fragile musical instrument, someone's livelihood and means of making income."
Music professor Robert Komaniecki also quote-tweeted the video. "It actually takes more energy to throw them like that than just lift and place gently," he said.
Singer-songwriter Grace Petrie added: "I can't stand watching this. I've had so many guitars damaged by baggage handlers. Why can't anyone do anything about it? Why don't airlines care? All anyone ever tells you in response is to book a seat for it, but that's the price of an entirely new airfare?"
Another user pointed out Ryanair's policy, that allows musicians to buy an additional plane ticket for their instrument. "Playing devils advocate; you placed them into cargo," the user wrote. "I know others with valuable instruments will pay for an extra seat. I don't see the baggage handler doing anything wrong."
Classic FM has contacted Ryanair for comment.
Elson followed up to his original tweet with a video of him and his band playing ABBA wedding favourite, 'Mamma Mia'.
"Guitars were thankfully fine and the wedding was ace, despite @Ryanair's best efforts," he added.
The response to the video brings up a wider conversation around how airlines and airports handle musical instruments.
Earlier this year, Warner-signed Polish violinist Janusz Wawrowski was forced to take an eight-hour coach journey, as opposed to a one-hour flight, after his airline demanded he store his €5 million Stradivarius violin in the hold.
Read Classic FM and the Incorporated Society of Musicians' guide to travelling with a musical instrument here.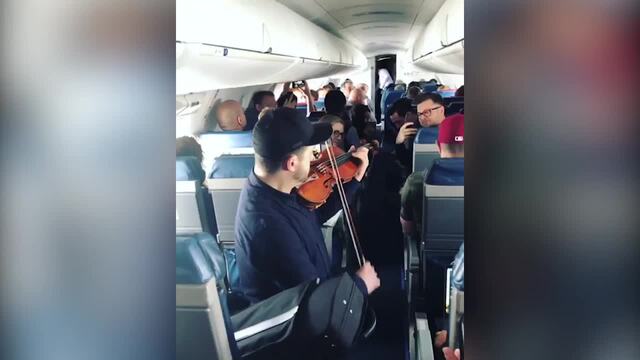 This violinist played for passengers on his flight – in exchange for overhead space