Polish airline told violinist to either store €5 million Stradivarius in hold, or not get on the plane
10 February 2023, 12:36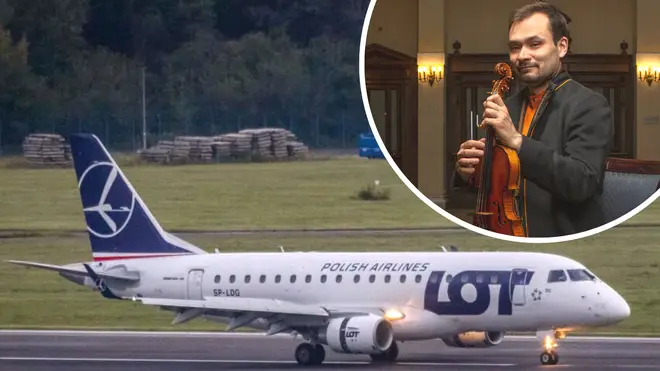 A Polish musician was forced to take an eight-hour coach journey, as opposed to a one-hour flight, after the airline demanded he store his €5 million Stradivarius violin in the hold.
Violinist Janusz Wawrowski was unable to board his intended flight from Lithuania to Poland earlier this week after the airline told the Warner-signed artist he would have to store his instrument in the hold.
The Polish violinist, who plays a 1685 Antonio Stradivari violin reportedly worth €5 million, was travelling back from Vilnius, Lithuania's capital, to Warsaw, where he is a lecturer at the capital city's conservatoire, the Chopin University of Music.
In a Facebook status, Wawrowski wrote that the ground staff gave him two options, "put the instrument in the luggage compartment below deck or stay in Vilnius".
The musician tried to explain the violin's worth to the airline staff and justify why it could not go into the luggage compartment, to which one member of staff retorted, "we'll see if it gets damaged in the hold".
The flight time from Vilnius to Warsaw is one hour and five minutes on a LOT aircraft, but due to Wawrowski's issues at the airport, he was instead forced to take an eight-hour coach journey home.
Read more: Flight attendant tries to force violinist to check instrument into hold: 'We don't go with federal law'
Writing about his experiences on Facebook, Wawrowski continued, "This is not the first time we musicians have had to face the incomprehension of airline attendants about what a valuable item we are dealing with.
"An instrument is not just a tool. It is an extension of the musician's body, and we spend hundreds, if not thousands, of hours with it.
"It would also seem obvious that a violin almost 340 years old, made by the most famous luthier in history, is too valuable to travel in the cargo hold. Apparently not for everyone.
"I could possibly expect such behaviour from 'low-cost airlines' that try to make money on everything, but not from a national carrier aspiring to be one of the best."
In his post, Wawrowski said he paid $2,000 for the airline ticket, and was unable to redeem this due to his experience. Whilst he had been able to fly to Vilnius on the same airline fine, it was only on his return flight that he encountered the issue of boarding the plane with his violin.
Read more: What's so good about Stradivarius violins?
Wolfgang Amadeus Mozart - excerpts from the Violin concerto G-major KV216 (Janusz Wawrowski/violin)
Looking up the extra baggage restrictions on the LOT website later, Wawrowski found that "...you are always allowed to bring one carry-on baggage up to 8 kg with a total dimension not exceeding 118 cm...In addition, you are entitled to a personal item up to 2 kg, such as... a laptop bag...". Wawrowski's Stradivarius violin case was 6kg and measured 118cm.
"I have been traveling for many years on different airlines with my violin," the musician shared in his social post. "In hundreds of previous flights, I was never forbidden to take my violin on the plane.
"Everything took place in a very unpleasant atmosphere, something I had never experienced before in any other airline or airport".
Wawrowski concluded with a call to action for other travelling musicians, writing, "Dear musicians, please – describe your stories of not being allowed on board a plane and share this post.
"Let's publicise such situations and our opposition together to show that such events should not happen".
Read more: 'How is this okay?' – outrage as seven music students' brass instruments lost by Lufthansa
Janusz Wawrowski plays Różycki: Nocturne in F sharp minor Op. 30, No. 2
In response to Wawrowski's claims, a representative of LOT Airlines gave the following statement to Lithuanian National Radio and Television.
The company said that while its airline often works with orchestras and musicians who are transporting delicate instruments, "in this particular case, an inexperienced LOT Polish Airlines handler made an incorrect decision on the basis that the violin case did not comply with the so-called baggage allowance.
"We deeply regret this situation. We will refund the unused part of the ticket and will do our utmost to prevent a recurrence in the future."