This orchestra gave their percussionist a pop gun, and his solo stole the show...
25 May 2023, 16:33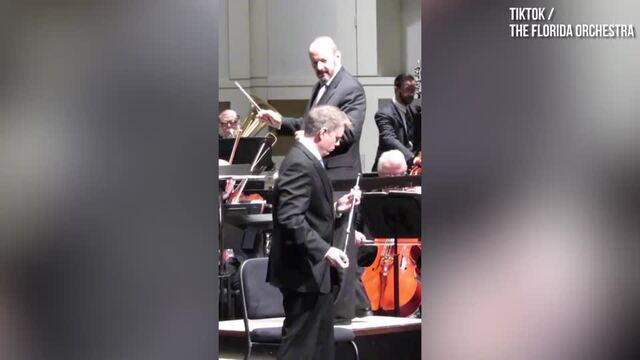 Florida Orchestra percussionist performs in solo
With over five million views on TikTok, this percussionist's solo has well and truly popped off.
Throughout history, composers have given a starring role in their greatest works to percussion instruments, of both the much-loved and unsung variety.
From the hypnotic snare drum in Ravel's Bolero, to Mahler's use of a giant hammer in his Symphony No.6, almost every instrumental member of the percussion section gets a chance to shine within the classical repertoire.
But one instrument you may not have seen enjoy its time in the spotlight, is the 'pop gun'.
Rather misleadingly, the pop gun does not look much like an actual gun. The instrument is actually titled as a 'pop-gun effect' and releases a rather satisfying 'popping' noise when played.
The Florida Orchestra, an ensemble known for its comedic antics on social media, decided to platform this instrument in a recent concert, and the results are rather hilarious. Watch above as principal percussionist, John Shaw, performs a take on Johann Strauss II's famed work, 'Champagne Polka', with the orchestra.
Read more: Beethoven's Fifth Symphony, but as a body percussion epic played by hundreds of schoolchildren
Shaw's popular performance has garnered the orchestra over five million views on TikTok. In response to the video's success, the principal percussionist has released an informal masterclass of-sorts, on how to play the bizarre instrument.
As Shaw demonstrates in the video above, the popping sound is made by a cork (hence the alcoholic-inspired renaming of the popular Strauss Polka) travelling through a metal tube. The pressure a percussionist applies to the instrument can affect the volume and intensity, giving the player a limited, but useful range of dynamics.
"It's not rocket science," Shaw attests in the video. However, due to the air pressure used to create the sound of the instrument, perhaps it could loosely be described as such. A shaken-up champagne bottle can launch a cork at a speed of 13 metres per second, so the percussionist equally has to apply a similar force to achieve the popping sound effect.
Rocket scientist or not, Shaw is an impressive, multi-talented percussionist. Having played with the orchestra since 1992, he has been featured as a soloist in a number of concerts that do not feature a pop gun, including in Joseph Schwantner's Concerto for Percussion, Bartók's Concerto for Two Pianos and Percussion, and Veni, Veni, Emmanuel by James MacMillan.
We wonder which percussion instrument he'll test out next. It's quite the... conun-drum.