Kanye West gives surprise gospel choir performance at Paris Fashion Week
2 March 2020, 13:09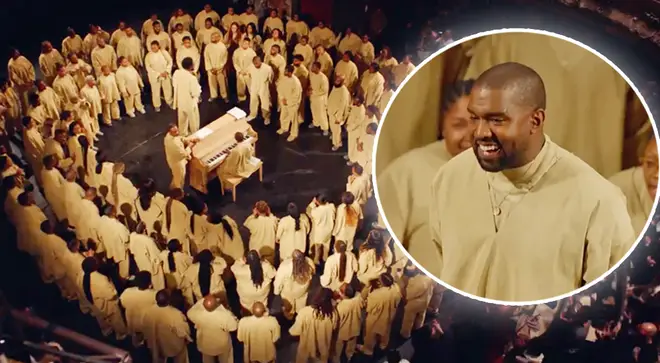 The US rapper brought the uplifting sounds of gospel music to the renowned fashion event.
Kanye West and his Sunday Service Choir surprised fashionistas with a live performance at Paris Fashion Week this weekend.
Together, the rapper and singers filled the Bouffes du Nord theatre in the French capital with the soulful sounds of gospel music on Sunday 1 March.
Clad in matching beige, they gave an energetic performance of around an hour a half, their powerful vocals backed up with just a solo piano accompaniment (watch below).
Read more: Kanye West is basically the closest thing we have to a genius classical composer >
It's a slightly different approach to the music which usually soundtracks the prestigious fashion gatherings, but the audience seemed enthralled by the performance – even standing on their feet and clapping along.
Kanye founded his Sunday Service Choir last January, before going on to stage his first ever opera, 'Nebuchadnezzar', the following November.
Kanye West a fait un Sunday Service au théâtre des Bouffes du Nord à Paris ce matin, avec une liste d'invités triés sur le volet pic.twitter.com/j8pP6UXwyT

— Florent Derue (@florentderue) March 1, 2020
Read more: Video clips from Kanye West's first ever opera 'Nebuchadnezzar' >
The opera centred around the famous Babylonian king of the same name, who features heavily in the Bible's Book of Daniel.
It was directed by Italian contemporary performance artist Vanessa Beecroft with music by the Sunday Service gospel group, as well as Peter Collins & Infinities Song.
Last Christmas, the group released their first album Jesus is Born.