Kanye West announces a second new opera, 'Mary'
6 December 2019, 13:24 | Updated: 6 December 2019, 13:26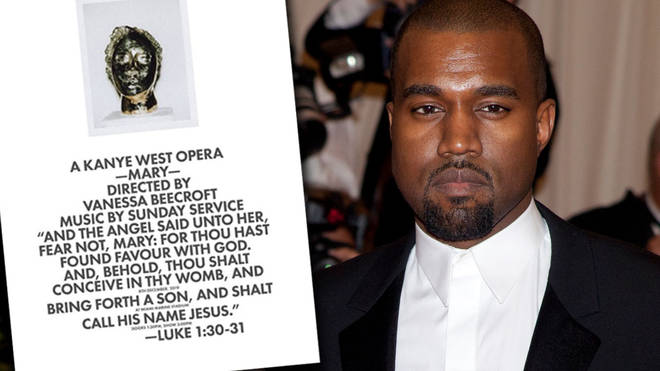 Kanye West has written another opera, to be staged this Sunday in Miami. And once again, it's no secular work...
Kanye West has announced another new opera. It's called Mary, and it's being performed this Sunday (8 December) at the Miami Marine Stadium.
Tickets are available from ShowClix.com and are currently listed at $200.
As with his first opera Nebuchadnezzar – which received mixed reviews – Ye announced the news on Twitter, with new artwork featuring a Bible verse (Luke 1:30-31).
It reads: "And the angel said unto her, fear not, Mary: for thou hast found favour with God.
"And, behold, thou shalt conceive in thy womb, and bring forth a son, and shalt call his name Jesus."
Watch more: Video clips from Kanye West's first ever opera 'Nebuchadnezzar' >
Ye's new opera will be directed by Nebuchadnezzar's Vanessa Beecroft, an Italian performance artist based in the US, whose works often feature female models as living art objects. In 2010, she art-directed Kanye West's Runaway video, and since then has frequently worked on choreography for the rapper's tours and fashion shows.
Mary will be sung once again by Kanye's Sunday Service performers.
But the venue for Ye's second opera is quite… different. The Miami Marine Stadium is the first US stadium that was purpose-built for powerboat racing.
Read more: What music critics and fans really thought of Kanye West's opera >
It looks like this:
Hmm. Biblical narrative, a water-based stadium. But we're certain modest young Kayne would steer clear of any messianic comparisons...