Naughty cat disrupts live orchestra concert and steals the show
4 August 2023, 17:22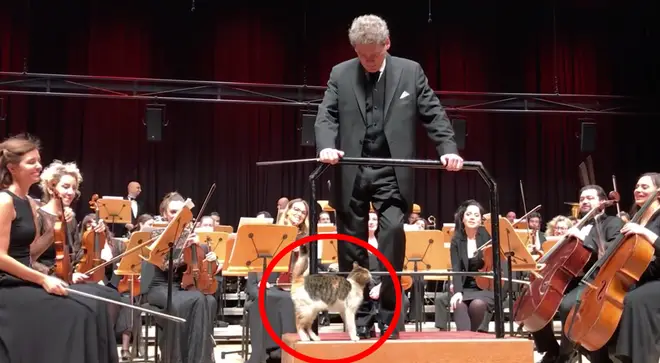 Cat finds a classical concert stage, and simply refuses to leave.
As an orchestra in Turkey was tuning up, a visitor prowled onto the stage, threatening to cover the musicians' concert blacks in plush white fur.
Footage has been doing the rounds of the priceless moment this stray cat, who is now a viral wonder, wandered into the music, oblivious to its surroundings.
Weaving carelessly between the musicians during a concert in Istanbul, the fearless feline quickly became the centre of attention.
One of the violin section took it upon themselves to try and shoo the four-legged intruder into the audience, off the stage, but was met with a surly reaction.
The cat then tried its luck with the cello section. One player couldn't help but reach down to give them a stroke, to the sounds of laughter from the audience.
Read more: Clerical cat drinks Dean of Canterbury's milk during online prayer service
Clearly, the stray feline felt its desire for attention has not yet been satisfied, so confidently jumped onto the podium to join the conductor.
Eventually, the furry intruder managed to bag the best seat in the house – sitting at the front of the stage alongside the performers as the show continued.
"That's just the purrcussionist," one Twitter user replied to the video.
Another quipped: "CAN SOMEONE GET HIM BACK TO THE BRASS SECTION?!? We need him on this 2nd crescendo."
Impaw-sibly cute.