Taliban burns musical instruments in bonfire, declaring 'music causes moral corruption'
1 August 2023, 14:34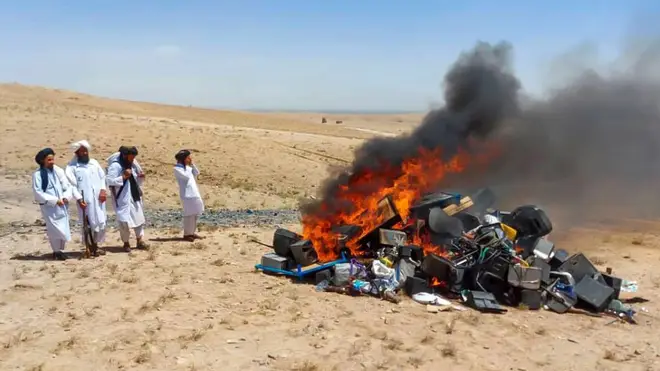 Musical instruments have been thrown on a bonfire in Afghanistan, as the Taliban declares music to be immoral.
Photos have emerged from Afghanistan of musical instruments being set on fire by the Taliban as a spokesperson for the ruling government describes music as 'immoral'.
One photo showing four men watching a large pile of instruments engulfed by flames was released to the press by the Ministry for the Propagation of Virtue and the Prevention of Vice on Sunday and was reportedly taken in Herat, Afghanistan's third largest city.
The large pile was made up of guitars, a harmonium, and a tabla (drum) which were burned alongside speakers and amplifiers in the fire. The instruments and equipment are thought to have been collected from wedding venues across the region.
A spokesperson from the Ministry in Herat recently said music "causes moral corruption" and that playing instruments "will cause the youth to go astray".
Read more: Musician weeps as Taliban burns his musical instruments in front of him
۱/۲د امر بالمعروف نهی عن المنکر او شکایتونو اوریدلو وزارت له لوري هغه سامان او الات تخریب شول چې د موسیقي او فساد د ترویج لپاره ترې استفاده کیدله. pic.twitter.com/E4TB4VrIdA

— د امربالمعروف او نهی عن المنکر وزارت (@MOPVPE1) July 19, 2023
The Ministry also posted photographs of a pile of musical instruments on fire on 19 July, but it is unclear whether this is the same fire that took place in Herat.
This is not the first time instruments have been set on fire in Afghanistan. In early 2022, an undated video went viral of musical instruments being burned in front of their owner.
Since the Taliban regained control of Afghanistan in August 2021, 20 years after being pushed out by US troops, musicians have been fleeing the country.
The Taliban banned all performances of non-religious music in the country soon after they regained control, sending those musicians still in the country into hiding.
Students and teachers of the Afghanistan National Institute for Music, the country's only music school, fled Afghanistan and are now exiled in Portugal. Among them, 284 were granted asylum and their escape was helped in part by high-profile musicians including cellist, Yo-Yo Ma.
Read more: Afghan musician who fled from Taliban gifted antique violin by stranger in the US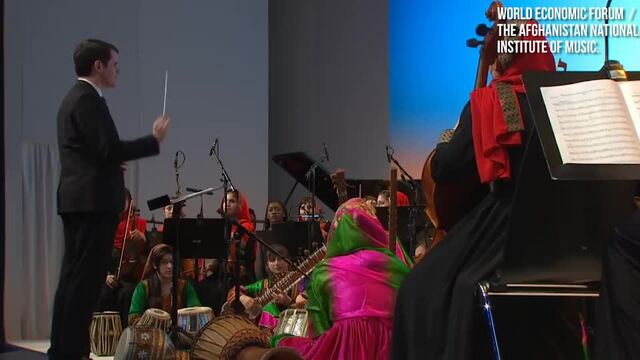 Afghan Women's Orchestra perform Ode To Joy at World Economic Forum in Davos
Music is not the only industry being attacked by the Taliban. Beauty salons in the country have also been ordered to close, which will lead to the loss of 60,000 jobs.
Since the Taliban retook Afghanistan, women have been disproportionately affected by their rule. Women have been banned from public places, gyms, public baths, and amusement parks. They have also been banned from both secondary and university education and most jobs.