People are only just realising the Spotify play bar becomes a lightsaber when you listen to Star Wars
4 May 2022, 13:35 | Updated: 4 May 2022, 13:43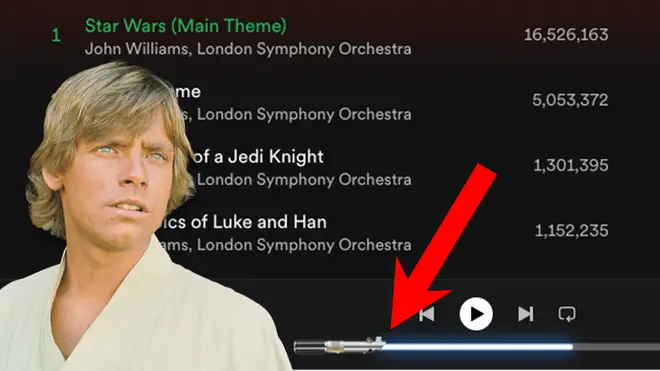 May the Fourth be with you all.
Every year around the time of Star Wars Day (May the Fourth be with you), comes a special moment where half the Internet appears to discover Spotify's Star Wars Easter egg for the first time.
When you listen to John Williams' soundtrack for the movie franchise, the music streaming service offers up a rather special surprise in the form of a lightsaber, which replaces the usual play bar at the bottom of the app.
Anna Lapwood, organist and Director of Music at Pembroke College, Cambridge, made the important discovery a couple of years ago. "Public service announcement: if you listen to the Star Wars soundtrack on @Spotify THE PLAY BAR IS A LIGHTSABER. As you were," she tweeted.
See the lightsaber play bar for yourself here >
And in 2022, the Internet is having the same realisation all over again.
Also, if you hover over the bar, it illuminates and you feel like actual Luke Skywalker.
Our day is immediately improved.