Ukrainian band turns broken vintage grand piano into a 20-instrument mini orchestra
31 January 2020, 17:04 | Updated: 5 March 2021, 16:26
Ever wanted to own more than one instrument but don't have the space? This Ukrainian band has managed to combine 20 instruments in one...
Ukrainian band Brunettes Shoot Blondes have built a hybrid piano, featuring 20 musical instruments in one.
As well as incorporating 88 piano keys, the impressive contraption includes a tambourine, violin, melodica, cello, kick drum, glockenspiel and percussion.
The band called upon engineers to help them create the piano, which includes violins that are played by pressing specific keys, foot pedals working the drums and even the sound of an organ.
In the 'Making of' video (watch above), the band's frontman Andrew Kovaliov explains: "Today, we are shooting a video we've been preparing for a very long time: a live version of our song called 'Houston'.
"We are going to play it on our new instrument, which was specifically designed and produced for today's live performance."
He continued: "I had this idea keep popping up in my head: why not play our new track on a special instrument, one that might not have ever existed before, but one we could invent, design and assemble ourselves."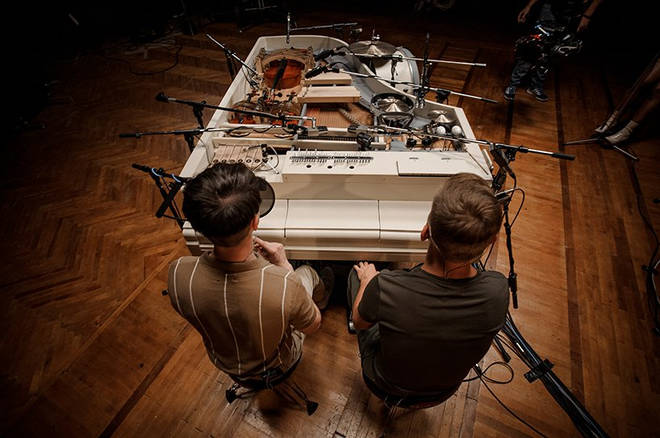 Band member and line producer Roman Sobol added: "Andrew suggested, 'Let's make a grand piano, but when the keys are pushed there will be no grand piano sound coming out, but a violin instead, or a drum, or something else.'
"We wanted it to be a grand piano but an old one, so that we could breathe new life into it. Pretty quickly, I found an old grand piano and we bought it immediately.
"It was divided into three equal sectors. So, we decided to leave the middle part as it is – a grand piano, and the other two parts we dedicated to separate groups of instruments. One part would be for shakers, tambourines, cymbals, the other part will have violins and a cello."
After sharing a Facebook post asking friends to donate unwanted musical instruments, the band received instruments ranging from a trumpet to drums and a cowbell – and they even hired expert craftsmen to carve special pipes for an organ.
Let's take a closer look... Which instruments can you spot?
Hybrid piano.

Picture: Brunettes Shoot Blondes

They're not your average piano keys...

Picture: Brunettes Shoot Blondes

The violins are played using pedals.

Picture: Brunettes Shoot Blondes

Contemporary strings.

Picture: Brunettes Shoot Blondes

Tambourine and cymbals.

Picture: Brunettes Shoot Blondes

A new kind of glockenspiel.

Picture: Brunettes Shoot Blondes

The piano comes complete with a mic.

Picture: Brunettes Shoot Blondes