Girl choristers now outnumber boys in English cathedrals for first time in history
20 December 2019, 11:53 | Updated: 20 December 2019, 12:27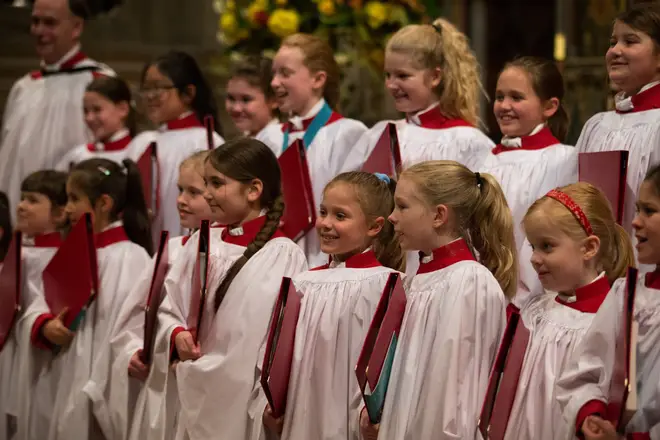 The rapid growth of girls choirs in cathedral music has brought a big shift to the 1,100-year-old choral tradition
It's been almost 30 years since girl choristers joined the tradition of English cathedral music, and there are now more of them than their male counterparts.
The Times reports that today, there are 739 girl choristers and 737 boy choristers singing in English cathedrals, meaning that for the first time, girls outnumber boys in the cathedral choir stalls.
The tradition of boy trebles singing in the country's cathedrals dates back over millennia to 909, when the first boys sang at Wells Cathedral.
Salisbury Cathedral became the first cathedral to admit girl choristers in 1991. Since then, almost every cathedral has introduced a girls' choir, although many admit the pace to reaching a point of equality has been slow.
Adrian Partington, Director of Music at Gloucester Cathedral told The Times: "We've had boy choristers since 1541. With girls, I'm sorry to say we've been a bit slow and only had them since 2016. It's shameful really."
Read more: Feeling stressed? Join a choir, says top psychiatrist >
Guildford Cathedral Girls Choir Messiah Rehearsal
Organist & Master of the Choristers at Guildford Cathedral, Katherine Dienes-Williams, was the first woman ever to be appointed to a director of music position at a Church of England Cathedral.
She said the new figures were a "wonderful thing" and a celebration of inclusion.
"This is a Christmas headline story celebrating the inclusion of girl choristers to (most) of our Cathedrals' musical foundations which is a wonderful thing," Dienes-Williams told Classic FM. "However, it is imperative that we continue to work passionately and energetically in our respective Cathedrals to endeavour to allow children identifying as any gender to access and enhance this musical heritage and culture.
"We must support and encourage each other, respecting that what we do and offer is what we can, whilst always seeking to inspire and give joy to those who hear us."
Read more: Why has Vienna Opera only just staged an opera by a female composer? >
Gaudete – St Catherine's Girls' Choir | Classic FM Sessions
Other conductors have also highlighted the need to support boys in the choral tradition.
Conductor Paul McCreesh tweeted: "Without a doubt, it's great to increase opportunities for girl choristers, but at the same time it's boys who are underrepresented in most youth choirs. Boys need safe spaces to sing, and not to feel intimidated by (older) girls."