10-year-old Emanne Beasha makes the America's Got Talent finals after Simon Cowell casts the deciding vote
12 September 2019, 11:45
The opera singer's incredible voice has secured her a place in the final of America's Got Talent Season 14.
10-year-old opera singer Emanne Beasha has gone through to the AGT 2019 finals.
Singing the Bryan Adams hit '(Everything I Do) I Do It For You' in Italian, Emanne stunned both the audience and judges, who erupted in applause and standing ovations, in her latest performance on the show.
After that stunning performance (watch above), the singer's fate was in Simon Cowell's hands, as he cast the deciding vote between Emanne and blacklight painter Alex Dowis.
When making the choice, the judge praised Alex's performance which included a tribute to 9/11 emergency responders – but was blown away by Emanne's voice, which tipped it.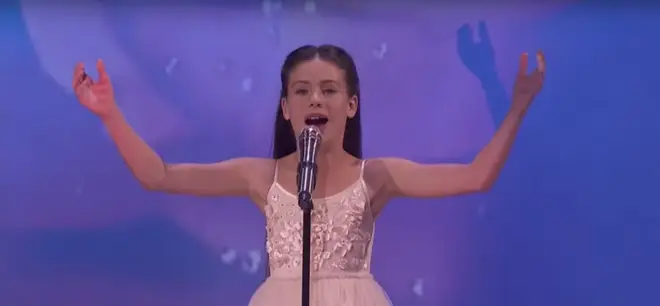 "You have this unbelievable powerhouse voice," said Simon. "You don't even know how good you are, which makes it so amazing."
"Stunning, amazing," added Gabrielle Union. "You literally took everyone's breath way."
Emanne auditioned for Season 14 earlier this year with a powerful rendition of Puccini's aria 'Nessun dorma', for which she received four 'yesses'.
Before impressing the judges and international audiences with her performances on America's Got Talent, Emanne also won the fifth season of Arabs Got Talent.
The AGT finals will take place on 17 September, ending with the result show on 18 September, with the decision this time being down to America – who will vote to decide Emanne's fate for the final stage of the competition.
The winning act will receive a $1 million prize and a Las Vegas headline.