Record-breaking cyclist to cycle 180 miles dressed as a VIOLA
29 October 2018, 12:01
An athlete known as The Running Viola will take on a new challenge this Halloween: cycling 180 miles, dressed as a human-sized viola alongside a pianist, who will be dressed as a toilet.
Alistair Rutherford and Anthony Hewitt are planning to cycle 180 miles, dressed as a human-sized viola and a toilet respectively.
The duo, representing Royal Birmingham Conservatoire, will cycle from the Conservatoire to Rotterdam in the Netherlands for the start of the 45th International Viola Congress.
Their cycling challenge will help raise money for the collaborative UK-South African project, Cape Gate MIAGI Centre for Music & Birmingham Conservatoire – or ARCO.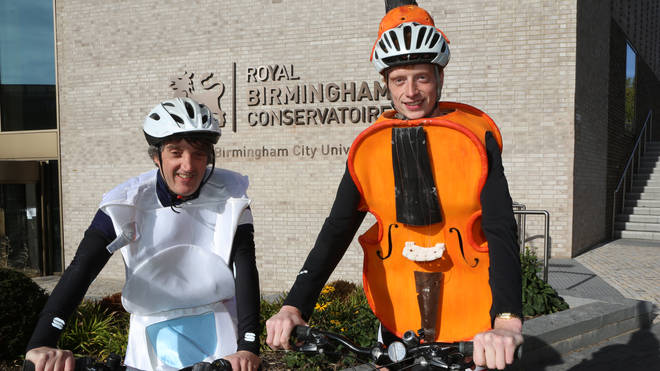 Rutherford, a research assistant better known as The Running Viola, has already broken two world records for running both the fastest marathon and half marathon while dressed as a musical instrument.
"After just a little over one year in retirement, it seemed only logical to bring The Running Viola out of hiding in its new, evolved form – The Cycling Viola – for this unique challenge," he said. "Like its predecessor, the idea was first mooted in the pub and I'll be using the original costume, albeit slightly smaller and a little more aerodynamic.
"Although we're not aiming for a Guinness World Record this time, the fundraiser will see us cycling 180 miles in November as a viola and toilet, which will be a pretty special sight for spectators along the route."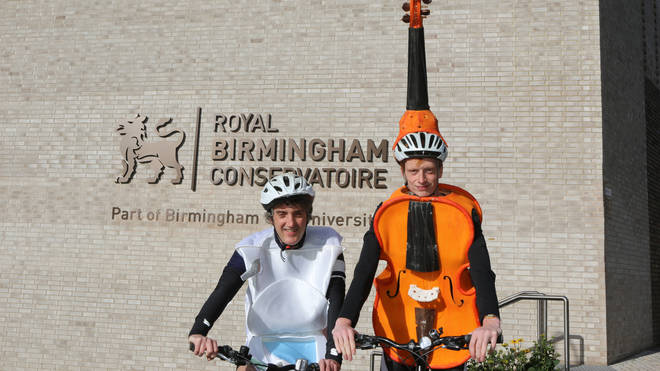 Pianist Anthony Hewitt, a keyboard tutor at Royal Birmingham Conservatoire, has also already raised thousands for charity under the moniker The Olympianist. Five years ago he cycled the length of Britain with his piano, giving a recital at the end of each leg.
Hewitt's unusual costume – a toilet – pays tribute to a character that is flushed down the toilet for their terrible viola performance in the play Die Bratschenfimmel ('Viola Mania') by Paul Hindemith. Students from the Conservatoire plan to showcase the play at the Congress in Rotterdam.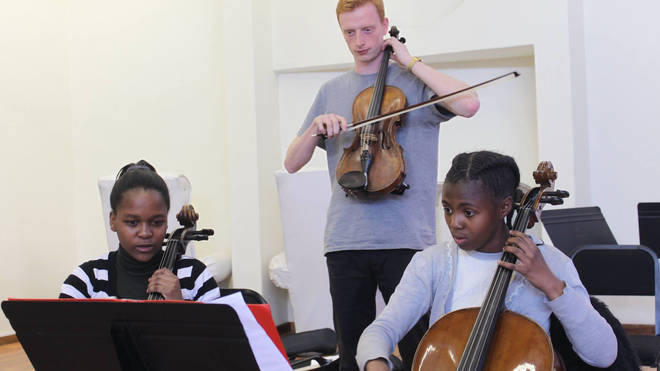 "I've never dressed up as a toilet before – I'm sure it'll be the last occasion!" said Hewitt. "Let's say I'm doing this for 'a lav', and it will be good for my 'waste' line – I've got nothing 'two loos'!"
Rutherford and Hewitt will begin their journey on Monday 18 November, cycling 100 miles to Cambridge. You can support The Cycling Viola and The Olympianist via their JustGiving page.