Vicar accidentally catches fire while giving at-home sermon during quarantine
23 March 2020, 14:00 | Updated: 23 March 2020, 14:03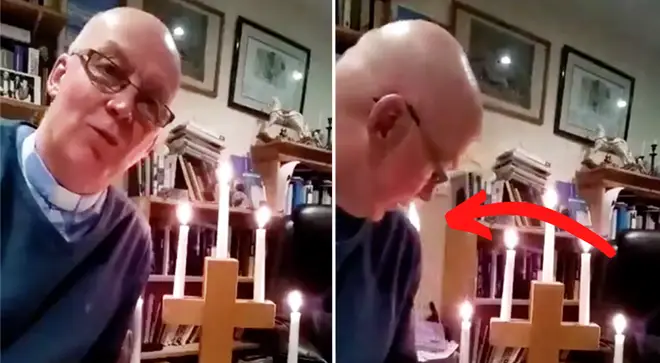 The video was shared by his niece, who captioned it: "Last night he gave his online sermon and things got a bit hot under the (dog) collar"
A vicar in Plymouth held an at-home sermon for worshippers during coronavirus quarantine, but things didn't fully go to plan – as he accidentally set himself on fire.
To set the scene for his the virtual sermon, the priest lit five candles, placing them in a cross-shaped candle holder in the background of the video.
But as he spoke to the audience through his camera, he sat a tad too close to one of the naked flames.
"Oh dear, I've just caught fire," he says. It's an impressively calm reaction, considering his jumper has just caught fire...
Click here to view the NHS's latest coronavirus advice >
The Church of England recently asked for all public worship to be suspended until further notice because of the COVID-19 pandemic – so this priest from Saint Budeaux Parish Church in Plymouth decided to host the Sunday Service from his home instead.
The video was shared by the vicar's niece on Twitter, who captioned the post: "Last night he gave his online sermon and things got a bit hot under the (dog) collar. Enjoy."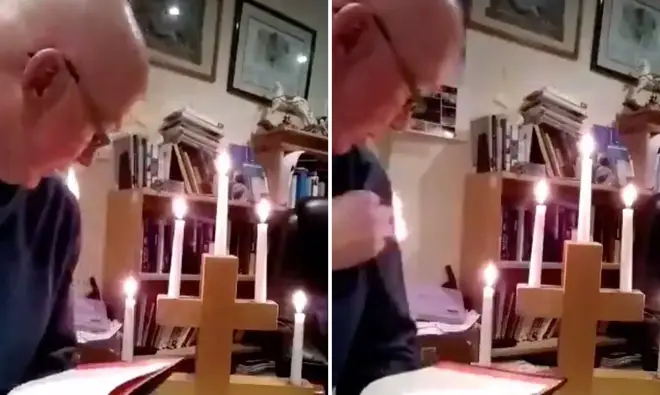 Read more: Gareth Malone brings together self-isolating singers with 'at home' choir project >
Since the video went viral, the priest's niece has reassured the Internet that her uncle is unharmed, except for a new hole in his favourite sermon jumper…