'Flamenco priest' shows off dance moves in Andalusia church service
8 January 2020, 16:02 | Updated: 8 January 2020, 16:06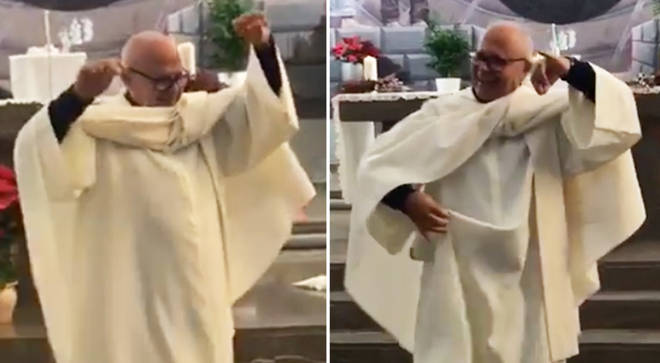 Arrr-iiba! This elderly priest brings some fiery Flamenco moves to a church service in Andalusia…
A rather wonderful video of a dancing priest has gone viral, garnering nearly half a million (434,000) views on social media.
Dubbed the 'flamenco priest', Father Jose Palmas grooves, claps and olé!s his way through a traditional Andalusian song, performed in a church service in Spain.
Picking up his cassock, he entertains a packed congregation at the Nuestra Señora de los Ángeles church in Malaga, Andalusia.
Father Jose's surprisingly slick moves are accompanied by the glorious sound of the 'Són de Malaga' (The Sound of Malaga) choir.
Read more: Man arrested for throwing flute at judge in Indian courtroom >
Reports say Father Jose was dubbed the 'flamenco priest' during his time at a church in the neighbourhood of Campanillas.
He tells local media: "My grandfather was a gypsy and dancing has always been very natural in my family. I have always enjoyed dancing, not only flamenco."
Flamenco, a fiery dance deep-rooted in Andalusian culture, has been burning in the southern Spanish region for hundreds of years.
You can find it performed in bars, galleries and performance spaces throughout the region – as well as in a number of festivals during the summer months.
Read more: This conductor just sings and dances instead of conducting >
"Dancing gives a joyous image of the gospels, mass and culture," Father Jose says. "It is also a nice way of attracting people to the church and help them enjoy mass."
He also claims to have danced in front of Pope John Paul II when he visited the Vatican City back in 1997, to bless the Spanish Civil War martyr Ceferino Gimenez Malla.
Guess Fleabag isn't the only place with a hot priest...