NHS doctor and violinist husband serenade neighbours with beautiful balcony duet
15 April 2020, 14:28 | Updated: 15 April 2020, 14:31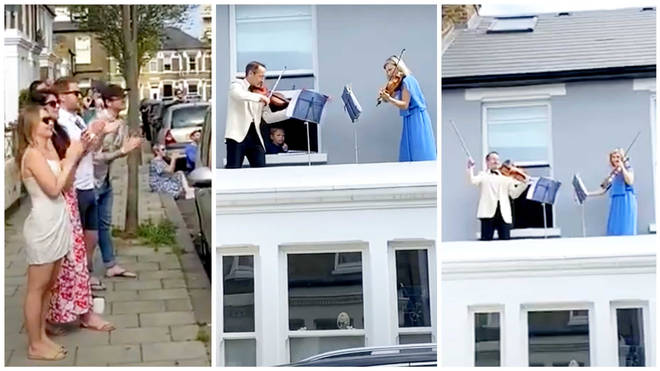 At a time of global uncertainty, this musical couple are helping to spread some much-needed joy through their love of classical music.
An NHS doctor and her husband are performing sweet violin duets for their self-isolating neighbours as people continue to stay at home during the coronavirus pandemic.
In the video (watch below), we see the musical couple, Julia Burkert and Richard Milone, stand on their balcony in Stockwell, London on Easter Sunday to share a few warm words with local residents who have gathered outside.
Milone, a violinist with the Orchestra of St. Johns and Trafalgar Sinfonia, says: "Julia's probably not going to like me or thank me for this, but I don't know how many of you know that she's actually a full-time A&E doctor at Chelsea and Westminster... and she plays the violin like a goddess. Well done Julia, thank you!"
Click here for the latest coronavirus advice from the NHS >
He continues: "Our next piece is called 'Oblivion' (rather suitable maybe!) and it's by the Argentinian composer, Astor Piazzolla."
Picking up their string instruments, they proceed to serenade their neighbours with the moving melody as well as treating them to a rooftop rendition of Monti's iconic 'Czárdás' and the 'Spring' movement from Vivaldi's 'The Four Seasons'.
The impromptu duet is clearly a success as their social distancing audience begins to give them a huge round of applause from the street below.
Read more: Quarantined musical neighbours take to the street for 'Somewhere over the Rainbow' tribute to the NHS >
In these uncertain times, the talented couple – who have been together for 11 years – are helping to spread some much-needed joy through their love of classical music.
Their duet comes as many other musical doctors and nurses around the world are also inspiring people with their beautiful performances during the COVID-19 lockdown.