A&E nurses form choir, sing beautiful performance in tribute to overworked hospital staff
25 March 2020, 17:10 | Updated: 25 March 2020, 17:11
As the coronavirus pandemic continues to unfold in hospitals across the UK, a group of A&E staff take a moment to make their colleagues smile through song...
Members of an A&E choir have shown appreciation for their colleagues with a surprise performance of 'I'll be there', as hospital staff work around the clock to help treat patients with COVID-19.
In the heart-warming clip (watch above), we see the choir – who have been singing together for over a year – gather together on the steps of Swansea's Morriston Hospital, while their co-workers enjoy a rare moment of peace to listen.
Originally released by Bobby Darin in 1960, the song became an instant hit with music fans thanks to its beautiful harmonies and uplifting lyrics: "You'll never be alone, I'll be there for you."
Click here to view the NHS's latest coronavirus advice >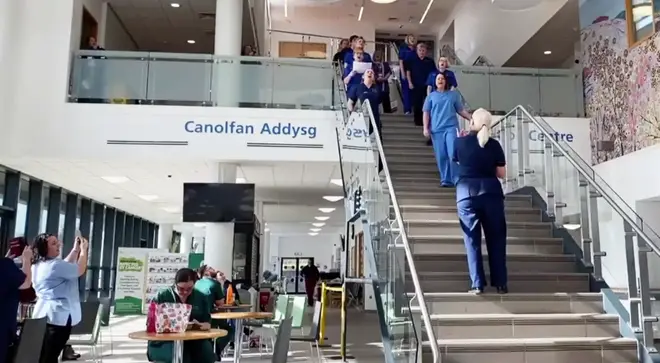 Now, as hundreds of medics at the Welsh hospital – and many others across the country – work on the frontline to help fight the coronavirus pandemic, the sweet ballad is moving people once again.
Andrea Bradley, matron of the emergency department and conductor of the impromptu performance, told ITV: "All the girls that are singing are under tremendous pressure at the moment. But they don't show it because they're professionals.
"It makes you feel part of the team and we have a real good laugh with each other. It gives you time out together as a team without the work pressure."
Read more: Opera-singing doctor sings an impassioned 'Nessun dorma' to fellow NHS staff on duty >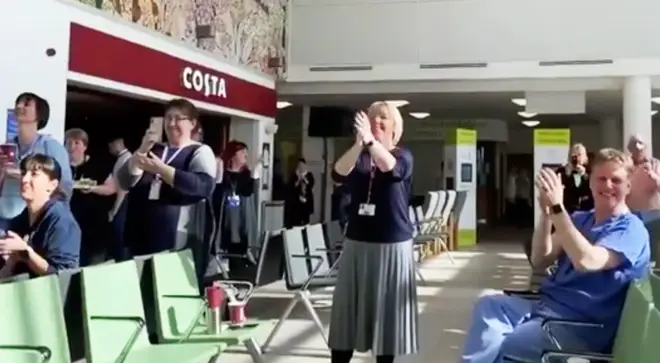 To round off their musical performance, the A&E choir sent out a powerful reminder to the British public, singing the words "stay at home, stay at home".
The clip comes after an opera-singing doctor recently decided to bring the joy of Puccini to fellow staff on the frontline in another beautiful moment of solidarity.
This Thursday, Classic FM and its sister stations at Global will be joining people around the UK to take part in a huge round of applause to show our appreciation for all those working in the NHS during the coronavirus outbreak.
The #clapforourcarers campaign will take place at 8pm, and will be heard from balconies, gardens and windows up and down the country.