How safe is your instrument? Here's the science on singing, woodwind and brass so far
21 July 2020, 14:10 | Updated: 21 July 2020, 14:25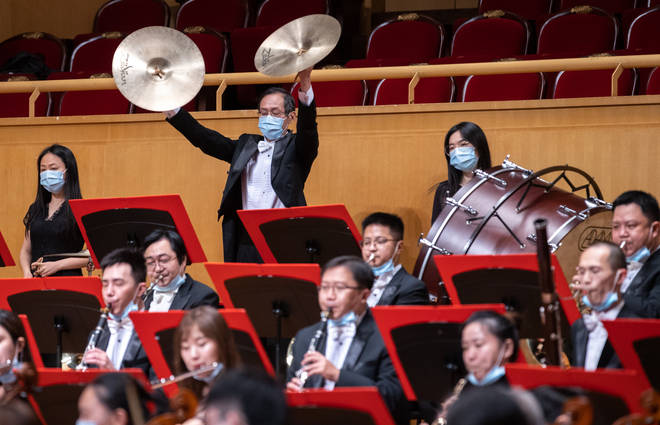 Is it safe to sing in a choir, and play wind and brass instruments again? Here's what we know about the transmission risks involved in making music, as the world still navigates the coronavirus crisis.
It's been a really long time since many musicians around the country have played together, due to the ongoing coronavirus crisis.
Now, we've heard the news that on 1 August in England, indoor concerts with a live, socially distant audience can resume – pending 'pilot' performances which include shows organised by Andrew Lloyd Webber at the London Palladium, and with the London Symphony Orchestra at St Luke's Church.
But there's still concern around droplets, aerosols and increased transmission risks, namely for singers and wind players.
Here's what we know so far about how safe your instrument is, according to science.
Read more: What is the UK government's latest guidance for rehearsals, concerts and live music venues? >
How safe is singing?
Singing in groups is considered a "higher risk activity" by the government, because of the potential for aerosol production.
Aerosols are tiny particles of moisture produced through breathing and speaking. In a poorly ventilated space – like a closed rehearsal room – they can remain in the air for several hours. Recent studies show that despite the minimal amount (-0.5m) of air movement in the vicinity of the mouth, aerosols are emitted when singing.
Currently, only professional singers can perform in a group or to an audience.
Government guidance for singers includes performing three metres apart from each other, and standing side-to-side or back-to-back. Room ventilation is also encouraged, as studies have shown better ventilation of spaces significantly reduces the airborne time of respiratory droplets and aerosols.
Government-funded research on the risks linked to singing, brass and wind playing is currently being undertaken by ENT consultant Declan Costello, who told the BBC: "There is a lot of anxiety about singing, a worry that it is potentially dangerous. This research is important for musical venues across the world."
The results of Costello's study, soon to be announced, will inform the government's next decision on whether to relax, or tighten, restrictions.
If the evidence reveals that singing and playing wind instruments does not produce any more aerosols than people chatting in a pub setting, live music could see some more relaxed performance guidelines.
In their review of music performance during COVID-19, the Incorporated Society of Musicians said: "While accepting that the sector must follow the guidance, loud talking can and does happen in pub settings and yet they have been allowed to reopen. This discrepancy is difficult to understand."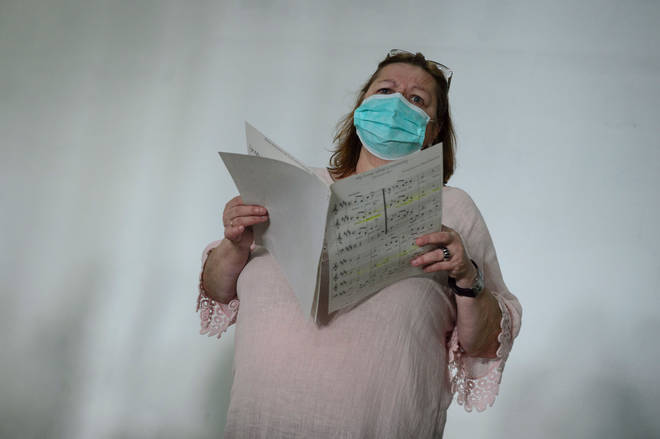 Is it safe to play a wind or brass instrument?
The advice is similar to singing, due to the emission of aerosols from playing the trumpet, oboe or clarinet.
Three-metre distancing is advised, and only professional brass and wind players are permitted to perform in groups or in front of an audience. This might change depending on pilot performances, and the results of Costello's study.
Other guidance includes room ventilation and plexiglas shields, to be placed in front of wind players to avoid potential aerosol distribution.
Brass Band England advises ensembles use screens to separate rows, where three-metre distancing isn't possible, and to limit group side to six players or two households. They also encourage more rigorous hygiene, such as emptying water keys into a cloth only touched by the player.
It's also a good idea for wind and brass players to maintain general instrument hygiene. A 2011 study by Marshall & Levy found it is extremely likely for woodwind and brass players to re-contaminate themselves, and to contaminate any who might share their instrument, with bacteria and viruses. Reed instruments were also found to carry higher microbial loads.
In terms of the risks involved in playing specific instruments, the flute appears to cause air in its vicinity to travel the furthest.
Studies by the University of the Bundeswehr Munich took quantitative measurements of the air movement and droplet emission of singers and brass and wind players. The results showed that air movement was not detected at 0.5 metre for brass; 1.0 metre for oboe, clarinet, bassoon; and slightly more for the flute.
This data has informed various worldwide recommendations for playing indoors (including ventilation and distancing), outdoors (physical distancing) and general hygiene practice for musicians (such as wearing masks during breaks).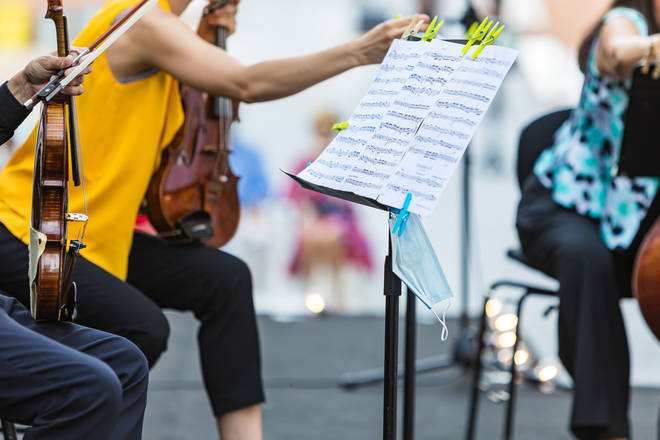 Is it safe to play a string, keyboard or percussion instrument?
String, percussion and keyboard instruments are all considered lower-risk, compared to singing and brass or wind playing.
The government guidance currently includes social distancing, playing outdoors where possible and reducing group sizes.
A policy written by medical professionals and board members from seven major orchestras in Berlin advises string, keyboard, percussion and harp players keep a 1.5 metre distance when playing. For conductors, the advice is to maintain a two-metre distance for rehearsals, and 1.5m for performances.
UK government advice suggests all instruments play back-to-back or side-to-side. It also encourages fixed groups, which could be problematic for professional players who perform with more than one group simultaneously.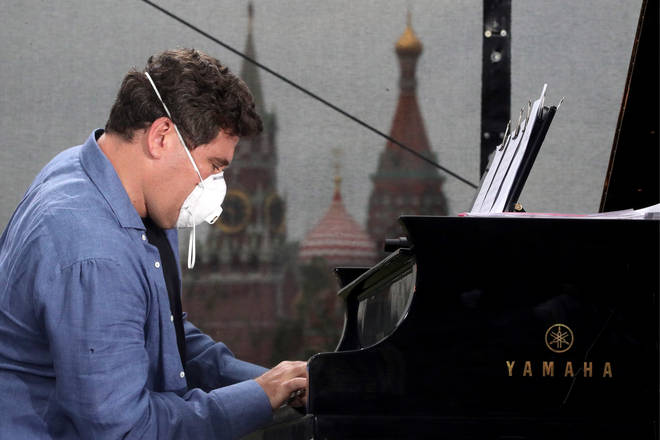 And any other roles, like assistants?
The Berlin policy, above, suggests orchestra assistants wear gloves when handling any sheet music, chairs or music stands. Studies have shown that COVID-19 particles can remain on plastic surfaces for up to 72 hours, and stainless steel for 48.