Greek orchestra plays musical tribute for frontline heroes in hospital courtyard
28 April 2020, 16:07 | Updated: 28 April 2020, 16:15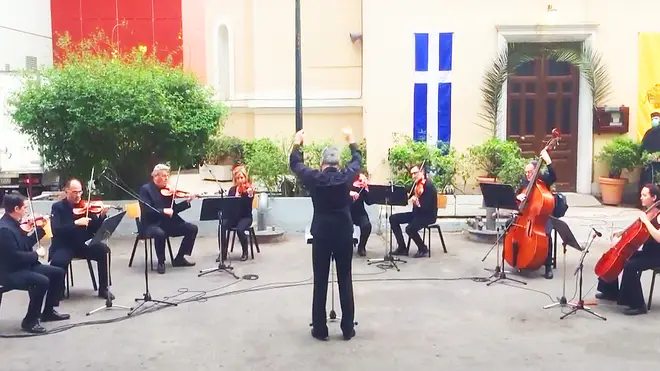 As Greece continues its fight against the coronavirus, these wonderful musicians are playing Greek classical works to spread some much-needed joy.
A Greek orchestra has paid tribute to the country's heroic frontline workers with a beautiful outdoor concert, set in the middle of a hospital courtyard.
The surprise display was held outside Evangelismos Hospital, Athens by the National Symphony Orchestra of ERT to thank the hundreds of doctors, paramedics, nurses and other healthcare staff currently treating patients with COVID-19.
In the video (watch below), we hear the ensemble perform an uplifting programme of music, including 'Ela Pare Mou Ti Lypi' – a sweet-sounding tune written by Greek classical composer, Manos Hatzidakis, who won the Academy Award for Best Original Song in 1960 for 'Never on Sunday', featured in the film of the same name.
Click here to view the NHS's latest coronavirus advice >
Greek orchestra plays music for healthcare workers fighting COVID 19
They also treated their audience to a rather spectacular rendition of the Greek national anthem as well as 'Aprilis', originally penned by 20th-century classical composer and lyricist, Mikis Theodorakis, who quickly rose to fame after scoring the comedy-drama film, Zorba the Greek (1964).
The heartwarming gesture was clearly welcomed by their audience, with many patients watching on from their windows and balconies, and busy staff enjoying a much-needed moment of peace.
It comes after seven-year-old Greek piano prodigy, Stelios Kerasidis, recently shared his own musical tribute, titled 'Isolation Waltz' (watch below), for those affected by COVID-19.
Stelios Kerasidis plays 'Isolation Waltz'
As the number of coronavirus cases in Greece reaches 2,534, these talented musicians are helping to lift people's spirits in spite of difficult times.