Seven-year-old Greek pianist composes an 'isolation waltz' in response to coronavirus
8 April 2020, 18:06 | Updated: 9 April 2020, 14:14
Something of a prodigy, the young musician penned the beautiful waltz "for people who suffer and isolate because of COVID-19".
A seven-year-old pianist from Greece has written an 'isolation waltz', inspired by the coronavirus pandemic.
The composer, Stelios Kerasidis, shared a video of his hypnotic new piano piece on YouTube last week – and since then, it's gone viral.
In the heartwarming clip, we hear Kerasidis say: "Hey guys! I'm Stelios. Over the past few days I've been at home self-isolating, too.
"Let's be a tiny bit patient for a while longer and soon enough we'll be out swimming in the sea. Now, I'm dedicating to you a piece of my own."
Click here to view the NHS's latest coronavirus advice >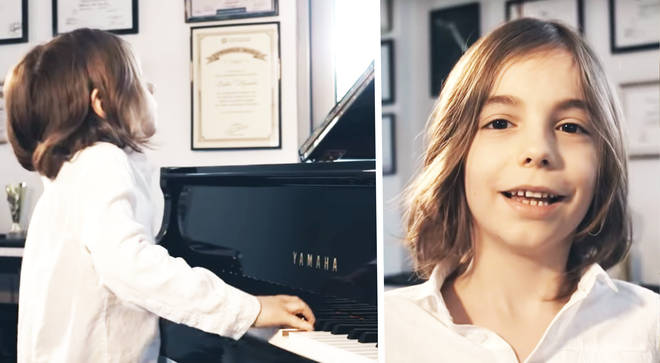 In the caption to his video, the young musician also added that his piece was "especially dedicated to the people who suffer, and those who isolate these difficult days because of the pandemic COVID-19🙏".
The fugue-like waltz is the third composition from the Athens-based prodigy, who currently lives at home with his pianist parents, Fotis and Agathe Kerasidis.
His two earlier works, which both received critical acclaim, were written for his sisters, Veronica and Anastasia.
But Stelios isn't just a gifted composer, he's a keen performer too – he first played in public aged three and in 2018, blew audiences away with his rendition of Chopin's 'Waltz in A minor' at New York's Carnegie Hall.
Stelios' moving 'isolation waltz' comes almost a month after Greece went into lockdown due to COVID-19 and we're glad his efforts are spreading joy at a time it is so needed.