Soprano in lockdown passionately sings 'Time to Say Goodbye' over Italy's rooftops
23 March 2020, 16:42 | Updated: 23 March 2020, 17:12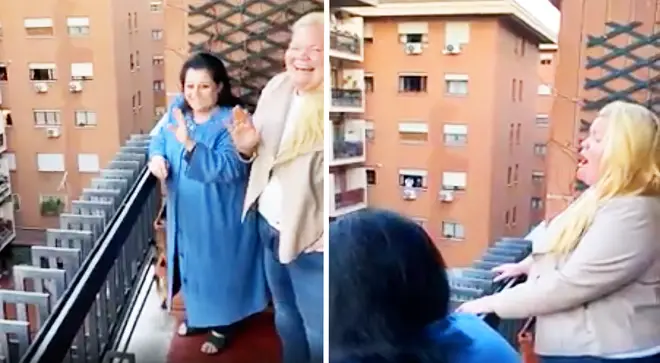 The quarantined opera singer performed the Andrea Bocelli classic to lift people's spirits as the coronavirus outbreak continues.
An Italian-American soprano has gone viral after performing 'Time to Say Goodbye' to her neighbours, in an attempt to boost morale during coronavirus self-isolation.
The video (watch below) was shared on Facebook by Ilaria Serafini with the caption: 'The best singing you can hear on a balcony of Italy in Quarantine 😍😍😍' – and has since had over 3.6 million views.
Originally released as a duet by Andrea Bocelli and Sarah Brightman in 1995, under the title 'Con te partirò' ('I'll leave with you'), 'Time to Say Goodbye' strikes an incredibly poignant chord.
Click here to view the NHS's latest coronavirus advice >
It was sung several storeys high by Illinois-based opera singer and teacher, Courtney Mills – who has previously studied at The Met and appeared on stage as the High Priestess in Verdi's Aida.
Mills has actually performed at venues all over the world – including the Louvre Auditorium and even Carnegie Hall – but her recent rendition of 'Time to Say Goodbye' was her balcony debut.
Read more: Germans sing 'Bella ciao' from rooftops in solidarity with Italians under coronavirus lockdown >
The viral clip comes as many other musicians around the world share their performances online to lift people's spirits during the COVID-19 lockdown – showing beautiful moments of solidarity and a powerful reminder that music heals.