Young musicians of the UK invite the world to a massed performance of Beethoven's 'Ode to Joy'
16 April 2020, 13:17 | Updated: 16 April 2020, 14:34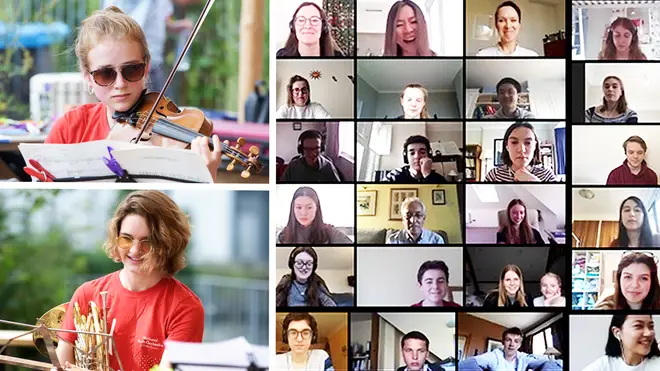 This Friday, The National Youth Orchestra of Great Britain are taking to their doorsteps to play a rousing Beethoven finale, and you can join them!
The National Youth Orchestra of Great Britain (NYO) is inviting musicians and singers across the country to join them in a virtual performance of Beethoven's great 'Ode to Joy'.
As thousands of teen musicians across the country continue to self-isolate during the coronavirus pandemic, Classic FM's Orchestra of Teenagers wants to offer hope and comfort to those who need it most.
Tomorrow (Friday 17 April) at 5pm, NYO's 164 instrumentalists and the National Youth Choir's (NYCGB) 700-plus singers, will take to their doorsteps, open windows and local streets to perform Beethoven's best-loved tune.
Musicians of all levels, and playing any instrument, are invited to pick up their instruments and share their own versions of the great melody on social media, in what promises to be a special moment for classical music.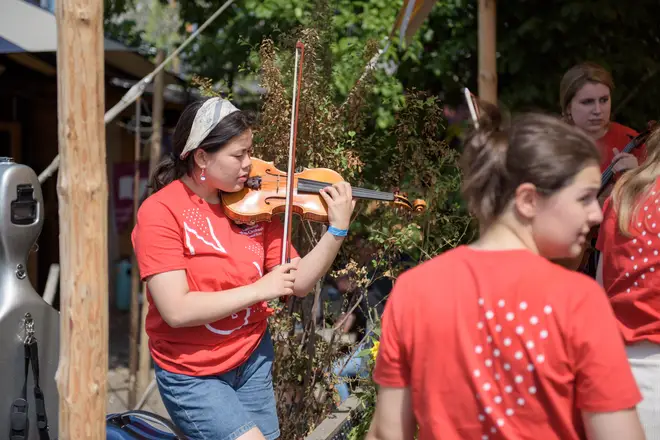 How can I take part?
To participate, simply download the PDF of 'Ode to Joy', learn your part (which for singers, can include both the English translation or words in your native tongue) and find a suitable spot in, or outside, your home.
Ask someone if they would be happy to film your performance. Share who you would like to dedicate your performance to – whether it's NHS staff, your friends and family, or others self-isolating – by shouting it over the rooftops, holding up a sign or even wearing it on a t-shirt.
Once you're all done, if you'd like to post your video on social media and become part of the noise, tag @NYO_GB and @NYCGB using the hashtag #NYOdetoJoy.
And last but not least, sing and play your heart out!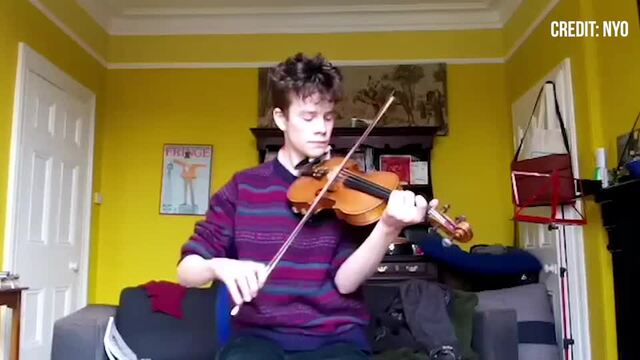 NYO musician plays 'Ode to Joy'
Inspired by Friedrich Schiller's poem, the 'Ode to Joy' is the choral finale from Beethoven's spectacular Ninth Symphony – and the cheery melody has remained a household favourite ever since.
For the first time in the chart's history – and in the composer's 250th anniversary year – the Ninth was voted in at No. 2 in the Classic FM Hall of Fame 2020, the world's biggest survey of classical music tastes
Now, Beethoven's music is being celebrated once again as young British musicians plan to share their own 40-second performance of the well-known melody, dedicating it to anyone who may be struggling due to COVID-19.
And it looks like the initiative is already set to be a success – so many musicians have been visiting the NYO's website to download their parts that it temporarily crashed:
💪🎶

Thanks for sharing the news of our #NYOdetoJoy!

So many people have visited our website to download the parts this morning that some people are struggling to get on! (It's like Glastonbury tickets all over again)

We'll be sharing the parts on social media v soon https://t.co/TwqAxITD7Y

— NYO_GB (@NYO_GB) April 16, 2020
The NYO and NYCGB's socially distanced performance of 'Ode to Joy' takes place at 5pm on Friday 17 April 2020.
Find out more about the project by visiting NYO's website.