Cathedral choirs given £2m lifeline, as they fight to survive amid COVID-19
13 July 2020, 12:07 | Updated: 13 July 2020, 13:12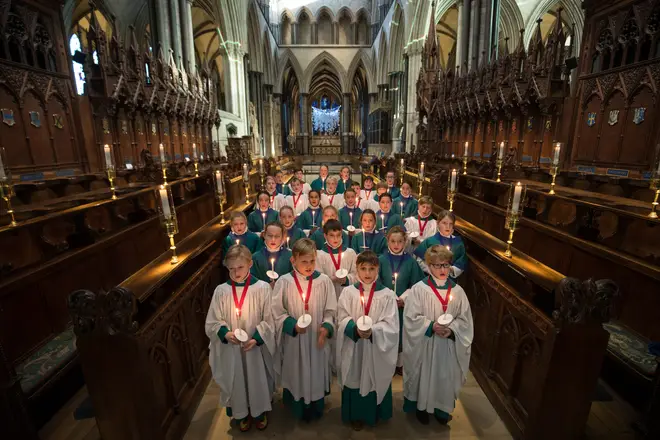 With singing still forbidden inside places of worship around the country, England's cathedral choirs face their biggest threat in centuries.
Since England went into lockdown in March, our great choral tradition has been put on hold. With cathedrals up and down the country silenced to stem the spread of coronavirus, choristers and places of worship have been struggling to make ends meet.
But they have just been given a £2m lifeline. The Church Commissioners are putting up £1m to match donations to the Cathedral Choirs Emergency Fund, allowing Lay Clerks – adult cathedral singers – to be paid from September until the end of the year.
The Emergency Fund has been raising money through a number of measures, including a celebrity virtual Evensong with Stephen Fry and Classic FM's Alexander Armstrong, to safeguard the tradition of daily sung liturgy in England's cathedrals.
The £2m lifeline follows new government guidelines that small ensembles may now sing outdoors with worshippers present. There is still no group singing permitted in places of worship, and only one individual can sing indoors "where essential to an act of worship".
Over 200 leading figures in the music world warned yesterday that religious music is "under serious threat" with "some professional choirs already facing permanent disbandment". Last week we heard that choral music will cease at the parish church of the House of Commons, as the choir has reportedly been abolished.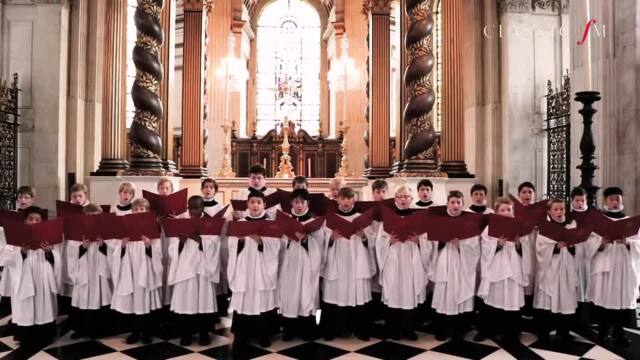 Jerusalem, from St Paul's Cathedral in London
"Our tradition of choral singing is second to none in the world," Peter Allwood, chair of the Cathedral Music Trust, told the Guardian. He added that cathedrals would suffer irreparable losses, and choirs would not sustain their world-beating musical excellence, if we didn't find a way to restart hymn services soon.
"No other country has the number or quality of choirs within churches, chapels and especially cathedrals. If they were dismantled, it would be an extraordinary loss."
Over the weekend, a virtual choir video was launched to raise money for cathedral choirs while they are still unable to sing under covid-19 constraints. 'Sing Forever' featured UK cathedral choristers, tenor and Classic FM presenter Aled Jones and soprano Elizabeth Watts (watch below).
"Under normal circumstances these choristers would be singing in their cathedrals at the start and end of each day, lifting the spirits of all who hear them," the YouTube video description reads. "They can't wait for the chance to sing together again, but the future of our precious cathedral choirs hangs in the balance.
"The young people who sing in our cathedral choirs come from a wide range of backgrounds and make an enormous contribution to the musical life of our nation. The choirs are a training ground for professional musicians of the future."
Read more: Choral leaders sound the alarm about the fate of choirs after COVID-19 >
Sing Forever featuring UK cathedral choristers
The Church Commissioners has warned Anglican cathedrals are set to lose £28.4m in income this year, and £15.3m in 2020. That's not even counting Westminster Abbey's losses: the abbey, which costs £50k a day to run, is being forced to make cuts as it faces a £12m shortfall this year and £9m deficit next year.
Cathedrals that attract a healthy number of tourists, including St Paul's, York Minster and Durham, have seen the biggest drop in income because of their reliance on admission fees, donations, and money from the café and gift shop.
The Bishop of London, Sarah Mullally, has urged the government to be "alert to the consequences of our choirs' continued silence" and "proactive in ensuring music-making can return to our churches and cathedrals".
"This way," she added, "we can safeguard our choral tradition which many believe to be the finest in the world".
The Cathedral Choirs Emegency Fund has confirmed it will be giving grants from September to cathedrals struggling to pay its choristers and will continue funding choirs and other cathedrals, if needed, from January.