Someone is designing bespoke masks for brass and woodwind players to stay safe amid coronavirus
2 July 2020, 17:46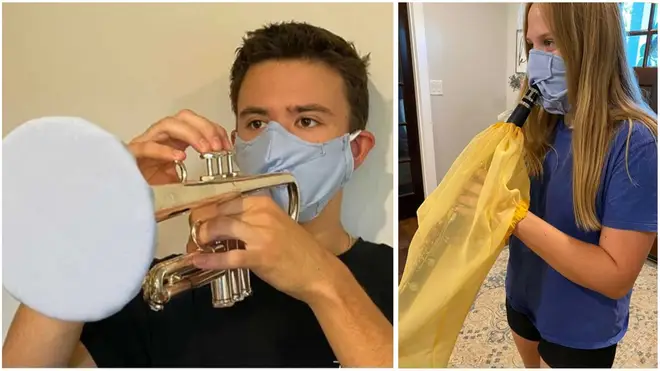 Brass and woodwind musicians, get ready for a rather fabulous makeover, courtesy of some homemade PPE.
Someone has designed a lovely set of hygienic coverings for brass and woodwind musicians, in preparation for concerts to return post-lockdown.
The designs come courtesy of Julie Patterson Duty and a team of workers at the non-profit organisation United Sound, who provide musical experiences to students. Together, they wanted to find a way for music education to return to our lives safely amid the coronavirus pandemic.
For trumpeters, the team have designed a face mask with an opening in the middle for the musician to make contact with the mouthpiece, as well as a closed covering for the bell to reduce the risk of transmitting of droplets while playing.
Click here to view the latest coronavirus advice from the NHS >
Trumpeter Brandon Burr, who styles the coverings above, said: "Yes, yes we must consider scientific data and proven ways these innovative possible solutions may fair longevity wise (and how to best assist bassoon and flute players).
"But RIGHT NOW we're doing what we can to fight for #MusicEducationForAll, holding true the mindset of #SafetyFirst.
The designs also include a rather lovely, yellow gauze bag for clarinet and oboe players, with openings at the mouthpiece and for the musician's arms (see below).
Read more: The ENO is making scrubs and masks to protect health workers >
These have been deeply challenging times for many musicians, as concert hall closures and tour cancellations have led to an immense loss of income.
It's proving particularly difficult for brass, woodwind players and singers to plan a return to work, because of concerns around the increased risk of transmission from saliva.
Sir Simon Rattle recently urged the government to 'avoid superstition', as leaked advice for concerts to resume in the UK was said to include three-metre on-stage distancing measures for woodwind and brass players: "The latest Danish scientific calculations suggest 0.5 metres for strings and one metre for winds as a perfectly safe arrangement."
Let's hope we can find a way to enjoy live music again soon...