Brexit is having a negative impact on musicians, confirms ISM report
7 May 2019, 12:35 | Updated: 7 May 2019, 14:04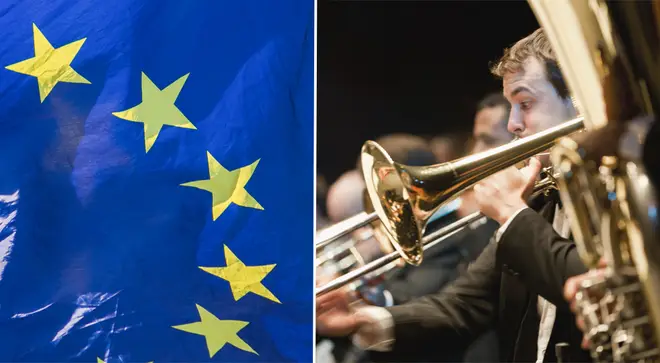 Brexit is on the horizon – and in the ISM's latest report, research has revealed how it is having a negative effect on the music profession
Today, the Incorporated Society of Musicians (ISM) has published its fourth report looking at the effects of Brexit on the music profession: Impact of Brexit on Musicians.
It is centred around research conducted in February of this year, which builds on previous surveys and concerns shared by more than 2,000 musicians.
Surveys reached out to respondents from a cross-section of the music workforce, including performers, composers, directors, teachers, academics and sound engineers – and covered every genre, from classical and jazz to folk and thrash metal.
What are the effects of Brexit on the music profession?
In the report, a worrying 95 per cent of respondents said that Brexit identified a negative impact on their professional work since the EU referendum result in 2016.
A further 63 per cent cited difficulty in securing future work in EU27/EEA countries, with more than 1 in 10 finding offers of work withdrawn or cancelled because of Brexit.
ISM Webinar: No deal Brexit what it could mean for musicians
What's more, one in seven musicians have less than a week's notice between being offered work and having to take it – leaving them with a great deal of stress and little time to prepare.
A musician responding to this statistic added: "I've had ensembles questioning me as to whether it's feasible for them to employ me post-Brexit.
"They're turning to me for guidance and there is nothing I can offer them. I'm about to pull out of a project because it is a recording and if we discover there are problems, it'll be difficult to replace me at short notice."
Another 64 per cent of survey respondents said that a two-year, multi-entry visa would cause concern over their future ability to work in the EU27/EEA if freedom of movement rights were lost.
In light of this, and among other recommendations for Government, the report calls for freedom of movement to be protected for musicians or the introduction of a two-year working visa.
Lord Black of Brentwood said: 'Music is an essential part of our national identity, and can play an increasingly important role in the UK's soft power.
Anna Patalong sings 'Caro nome' from Rigoletto
"If and when the UK leaves the EU, it is our prosperous music industry (now valued at £4.5bn a year to the economy), our musical heritage, and our worldwide reputation for musical excellence which must inevitably be one of the most secure engines for prosperity in post Brexit Britain.
"If musicians cannot travel easily to the EU27, this will all be put at risk."
British soprano Anna Patalong added: "Freedom of movement is of course essential for our jobs, enabling us to move freely around the continent and work without restrictions. But even more importantly it allows artists of every kind in Europe to interact and share our languages, cultures and ideas.
"Collaboration is fundamental to Opera, which is an amalgamation of many art forms, and the opportunity to, as Oscar Wilde put it, 'play gracefully with ideas' is vital to keep us producing great work. The further apart we move, the harder that becomes."
Which other musicians have voiced their concern over Brexit?
In a feature in the Guardian, a number of leading figures across different areas of the music industry have also warned of the damage Brexit will cause.
John Summers said that ending freedom of movement "will have a profoundly negative effect on the orchestral life in the UK."
Helen Wallace, programme director of Kings Place in London told the paper: "At present, a French pianist can come over on Eurostar to St Pancras, step on to the stage at Kings Place and perform with no charges and no bureaucracy.
"If European musicians start needing visas and other permissions – such as certificate of sponsorship and so on – the cost of the time spent on administration, aside from the extra charges, would present further barriers to booking these artists."
The comments come after months of mounting concern among musicians about the possible effect of Brexit.
In October 2018, a group of high profile musicians including conductors Sir Simon Rattle and Sir John Eliot Gardiner and pop stars Rita Ora and Ed Sheeran wrote an open letter to Theresa May. They said:
"We dominate the market and our bands, singers, musicians, writers, producers and engineers work all over Europe and the world. In turn, Europe and the world come to us. Why? Because we are brilliant at it. […] It reaches out, all inclusive, and embraces anyone and everyone."
"But Brexit threatens, as it does so much else, this vast voice. This huge global cultural influencer. We are about to make a very serious mistake regarding our giant industry and the vast pool of yet undiscovered genius that lives on this little island."
In April 2018 the Estonian composer Paavo Järvi told Classic FM: "Brexit won't make the lives of British musicians any easier. It will isolate a lot of them and create logistical and financial barriers."
"Musicians are all brothers – whether you're in an orchestra in London or Paris, Birmingham or Lille. But some clever opportunists have hijacked the whole country, without thinking about the consequences."