'Barmy Army' trumpeter Billy Cooper is to retire and tributes are pouring in
27 January 2020, 17:16 | Updated: 28 January 2020, 11:34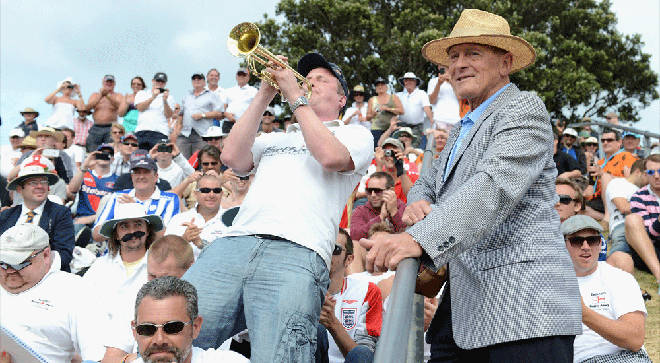 After years of sounding out his trumpet at England's cricket matches, Billy Cooper earned himself quite the loyal fan base – but now the keen brass player has announced his retirement.
For many cricket fans, 'Barmy Army' trumpeter Billy Cooper has provided the soundtrack to countless England games – but now, the legendary brass player has announced his retirement.
After 16 years of treating cricket audiences to his musical skill and catchy song choices, the classically trained musician has decided the time has come to spend more time with the family.
During an England game, Cooper said: "It's more complicated now, with a wife and kids. It's good to be going out on a high!"
Read more: Tine Thing Helseth's Top 10 Trumpet Pieces >
The current Test against South Africa will be Cooper's final tour playing his beloved instrument – and since hearing the news, tributes have been pouring in from fans, including words of thanks from the England team itself:
The talented trumpeter, who has a performer's diploma from the Royal Academy of Music, has previously played as a guest trumpeter with the London Symphony Orchestra and performed in many West End musicals, such as the Royal Shakespeare Company's production of Matilda.
He first became involved with the Barmy Army in 2004 after flying to Barbados to support the England cricket team for the third Test against the West Indies, when he realised his blue trumpet had gone missing.
He recalls: "I didn't have anything to do with the Barmy Army back then, but I heard that noise and I saw it was my trumpet."
After approaching members of the group to request its safe return, they asked him to prove the trumpet belonged to him and this quickly led to a "sing-song".
In a stroke of luck, Paul Burnham, a founding member of the Barmy Army, had witnessed Cooper's incredible playing and offered to pay for his flights to the next Test in South Africa.
Since then, Cooper has performed at iconic venues and locations all over the world, including London's Trafalgar Square, after being invited on stage by skipper Michael Vaughan.
While his playing has been met with a warm reception by most cricketers, his trumpet has occasionally got him into trouble; during the 2006-2007 Ashes, he was banned from sounding out in the stadium after playing the Neighbours theme tune and was escorted away by officials.
Cooper said: "I don't think the Aussies wanted a home game to feel like an away game by letting us make too much noise."
But mostly, his song choices have gone down well at matches and included popular TV themes, such as Blackadder, Only Fools and Horses, and Coronation Street, as well as the Disney classic, 'The Lion Sleeps Tonight'.
Happy retirement to a true trumpeting legend.