Austria's Brucknerhaus Linz set to reopen with a series of summer concerts
6 May 2020, 11:28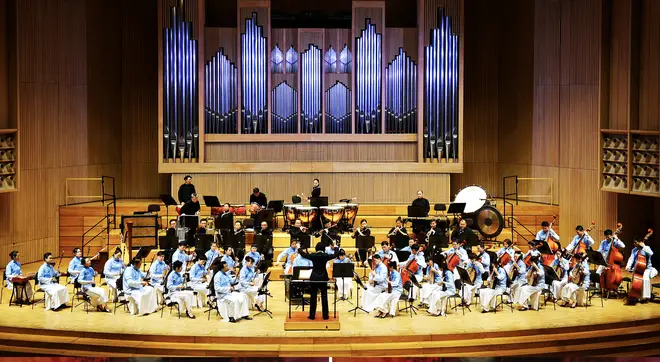 It's been a quiet few months for classical music, with venues shut and events cancelled in the face of coronavirus. But now – a glimmer of hope from one of Austria's most iconic venues.
The Brucknerhaus Linz has announced that it will be reopening its doors this July with a series of summer concerts, following the coronavirus outbreak.
The Austrian concert hall's plans come as the country begins to ease its lockdown restrictions, with shops set to resume business from 2 May and restaurants in mid-May.
After being empty for weeks, the popular venue will welcome audiences once again on 5 July with a concert dedicated to Jewish composers, and a second featuring Beethoven's 'Pastoral' Symphony, played by the Haselböck Vienna Academy Orchestra.
However, unlike a typical concert at the Brucknerhaus – seating thousands of people – these shows will only be made available to audiences of 400 at any given time, to allow for physical social distancing.
Click here for coronavirus advice from the NHS >
Read more: Italy's La Scala to reopen in September with Verdi's Requiem >
Anton Lubchenko und das Primorski-Sinfonieorchester - Brucknerhaus Linz
So far, the Hall's upcoming weekly programme includes 'Linz Symphony' on 7 July, featuring epic works by Koželuh, Krommer and Mozart, and 'Do You Love Brahms?' on 14 July, showcasing pieces by the late Romantic composer and fellow classical musician, Reicha.
Chamber orchestra Ensemble Classico will also be performing on 21 July, with a beautiful line-up of music by Telemann, Mozart, Rossini, Reger and Vivaldi.
In a heartfelt message shared online, Dietmar Kerschbaum, director at the Brucknerhaus, said: "The stages of the world are orphaned. It's also quiet in the Brucknerhaus Linz. Together with the many artists, whose performances cannot currently take place, have to be postponed or canceled, we are affected by the sudden standstill of our cultural life and what is currently happening in the world. 
"In these difficult times we miss life on stage, music, our audience, enthusiasm and joy. We can hardly wait until the Brucknerhaus can open its doors again and we can experience the magic of music together again, perhaps more intensely and happier than ever. Until then, we wish you, dear friends of the Brucknerhaus, all the best, but above all health and patience!"
New Rieger Organ at the Brucknerhaus Linz, Austria
The news comes as many other classical music venues start making arrangements for resuming live music later this year – Italy's iconic opera house, La Scala, will be reopening in September with a performance of Verdi's Requiem.
Meanwhile, a group of musicians from the Berlin Philharmonic played together on stage (and at a safe distance) last Saturday for the first time in weeks, watched virtually by audiences via a live stream from the orchestra's Digital Concert Hall.
In Spain, the Quincena Musical de San Sebastián and the Festival International de Santander have also pledged to move forward with their summer festivals, complete with new safety precautions for audiences.
Certainly, the effects of COVID-19 will continue to present challenges for many musicians over the coming months – but these hints of normality are providing us all with hope at a time we need it the most.