Here's how Stravinsky ended up in songs by Bruno Mars and Soulja Boy
7 June 2018, 15:23 | Updated: 7 June 2018, 15:29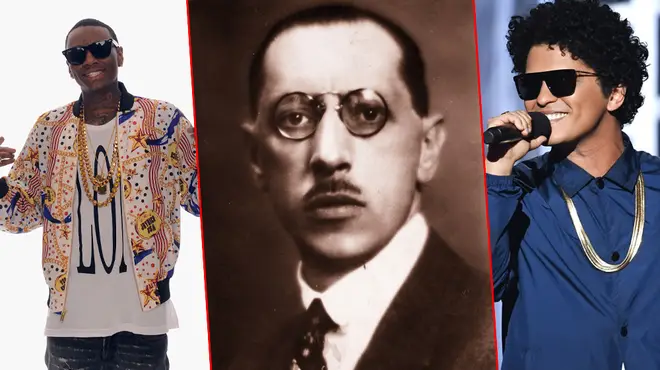 When Stravinsky wrote The Firebird he can't have expected he'd still be topping the charts centuries later…
Igor Stravinsky was a trend-setter, someone who prioritised creative freedom over any controversy his work left in its wake. He was born while Brahms was writing symphonies and died after The Beatles broke up.
His music spanned two incredibly different eras and just listening to his music you can hear echoes of the huge changes taking place around in the world during his lifetime.
It's a fitting legacy, then, that one specific chord of his found its way into most of the hit music of the eighties... in the form of a tiny unassuming sample known simply as 'ORCH_2'.
ORCH_2 Audio Clip
Doesn't sound like much, does it?
But the original sound used to make this 'hit' was none other than the primal scream at the start of Stravinsky's 'Infernal Dance' from The Firebird. It was loaded onto one of the earliest digital audio workstations, the Fairlight CMI, by its creator Peter Vogel, who just happened to have a vinyl record of the ballet in his house.
Listen for the iconic moment at 02:00
Stravinsky conducts The Firebird, NY Phil. (final three scenes)
So how did Stravinsky's 'orchestral hit' come to be adopted by pop artists experimenting with the new world of digital music?
YouTube vlogger Estelle Caswell has made a short video about it which is breaking the internet with its brilliance. She explains in detail the journey of Stravinsky's orchestral 'hit', and how it became one of the most iconic sounds of eighties music. This video is well worth watching to the end:
The sound that connects Stravinsky to Bruno Mars
As groundbreaking as Stravinsky might have been, his orchestral stab wasn't anything new. Similar orchestral gestures were used by composers throughout the Romantic period.
Take Verdi for example, in the Dies Irae from his Requiem, written in 1874:
Verdi: Requiem, Dies irae
And Stravinsky's not alone in being turned into a musical sample. Several other classical hits have been turned into sampled 'hits' which have wheedled their way into every genre of modern music, including hip-hop, pop and rap.
See if you can recognise this one:
Soulja Boy Tell'em - Crank That (Soulja Boy)
The answer might surprise you:
Beethoven: Symphony No.3 in E flat major - Christian Thielemann (HD 1080p)
Amazingly, you can hear the same orchestral hit in Annie Lennox's revealingly named 'Beethoven' recorded with Eurythmics in 1987. Did she know that she was quoting the master himself?
Eurythmics - Beethoven (I Love to Listen To) (Official Video)
There may have been a lot of orchestral hits over the years but thanks to a chance encounters with a Fairlight CMI in the 1980s, Stravinsky's has become the original and best.
However, no matter how it's sampled, nothing gives you an adrenaline rush quite like hearing the chord in its rightful place at the beginning of 'Infernal Dance'. Take this lady's word for it: