The 15 greatest, most rousing hymns of all time
19 July 2023, 08:58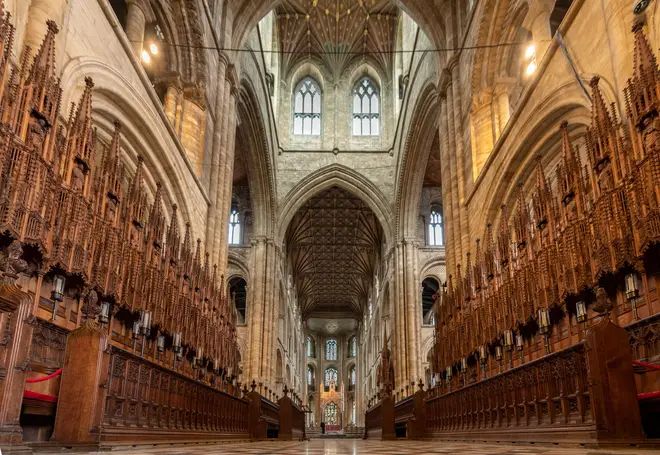 Lift your voices to these rousing tunes. Here are some of the best hymns of all time...
From 'Amazing Grace', first published in 1779, to 'The Lord's my Shepherd', based on the 23rd psalm, hymns have moved us and lifted us for centuries if not millennia. Religious hymns are believed to have been sung since even before the Ancient Greek era.
Hymns continue to be a core part of Christian worship today. The universality of their simple, poetic message, combined with a soaring melody, make for a hearty and moving sing in churches, cathedrals, and school halls around the world.
Read more: 13 primary school hymns that were 100% certified belters
Be Thou my Vision

Said to be a favourite of King Charles', 'Be Thou my Vision' is one of the oldest hymns in the world. Its text has its origins in 6th-century Ireland, in a poem attributed to early Christian Irish poet Dallán Forgaill. In the early 20th century, Forgaill's Gaelic words were translated into English by Mary Elizabeth Byrne, and soon after adapted into verse by Eleanor Hull.

Today, the text is usually sung to an Irish folk tune known as 'Slane', an ever-rising and deeply satisfying melody which gradually opens up through the verse, before resolving on the tonic on the final three notes.

Read more: What are the lyrics to 'Be Thou My Vision'?

Solo soprano sings King Charles' favourite hymn 'Be Thou my Vision'

Amazing Grace

Whether it's sung by the great soprano Jessye Norman, a school hall of children, or even Elvis, 'Amazing Grace' has an incredible power to move and uplift. But its story is a surprising one.

Its author, English poet and clergyman John Newton was a former slave trader, who converted to Christianity after surviving a shipwreck. He went on to become a committed abolitionist. The lyric 'Who sav'd a wretch like me' could refer to either his spiritual awakening or his physical survival, and Newton's 'Amazing Grace' would go on to be known as the anthem of the civil rights movement.

Cellist Yo-Yo Ma plays 'Amazing Grace' at the Celebrating America concert

Abide with Me

A glorious blanket of hymnal reassurance, 'Abide with Me' is a prayer to God to remain with the speaker throughout life and death. But it has taken on a life far beyond its biblical roots.

Since the late 1920s, it has been sung at every FA Cup Final and before every Rugby League Challenge Cup Final. It also featured for over 70 years in India's annual Beating Retreat military ceremony, until 2021 when it was replaced. The lyrics, from 19th-century Scottish minister and poet Henry Francis Lyte, are usually sung to the tune 'Eventide' by the English organist William Henry Monk.

St. Olaf Cantorei and Congregation - "Abide With Me" (EVENTIDE)

Love Divine

Eight years before writing 'Love Divine', English Methodist leader Charles Wesley had penned a knockout hit: his Christmas carol 'Hark! The Herald Angels Sing'. And there were more great things to come for this prolific lyricist.

He followed it up with this magnificent text, which today is most often sung to the melody 'Blaenwern'. It was heard at the wedding of William and Catherine, Prince and Princess of Wales, and more recently at the funeral of Queen Elizabeth II.

Read more: Queen Elizabeth II's funeral: All the music played during the service

Love Divine, All Loves Excelling | The Tabernacle Choir

Jerusalem

The eternally glorious 'Jerusalem', also known by its poetic origins, "And did those feet in ancient time", is based on an 1808 poem by William Blake, which suggests that a visit from Jesus will create heaven in England, in contrast to the 'dark Satanic Mills' of the industrial revolution.

As ever, it's the pairing of text and melody that creates magic in this hymn. Hubert Parry wrote this tune in 1916 when King George V was the monarch. As legend has it, remarked that he even preferred Parry's melody to the actual national anthem for Britain. Today, the hymn is best known in its 1922 orchestration by Elgar, written in tribute to Parry.

Jerusalem, from St Paul's Cathedral in London

Eternal Father, Strong to Save

Traditionally associated with seafarers and the maritime armed services, this historic British hymn asks for blessing, safekeeping, and peace, for "those in peril on the sea". The text, written by William Whiting and inspired by the dangers of the sea described in Psalm 107, is set to the hymn tune 'Melita' by John B. Dykes.

A long-time favourite of the Duke of Edinburgh, who had a life-long relationship with the Navy and a deep connection to the Royal Navy's hymn, it was played at his funeral to great effect.

Read more: Soprano sings Royal Navy hymn in empty Portsmouth Cathedral, in moving Duke of Edinburgh tribute

'Eternal Father, Strong to Save', sung in Portsmouth Cathedral

Guide me, O Thou Great Redeemer

The Everest of reassuring hymns, 'Guide me, O Thou Great Redeemer', also known by its lyric 'Bread of Heaven', is sung to the 1905 tune 'Cwm Rhondda' by John Hughes.

Wales' premier hymnist, William Williams, is the brains behind the text. His 1762 hymn 'Arglwydd, arwain trwy'r anialwch' was translated around 10 years later into English by Peter Williams as 'Guide me, o thou great redeemer'.

Charlotte Church - Guide Me Oh Thou Great Redeemer (Live From Jerusalem 2001)

I Vow to Thee My Country

This hymn shares its melody with one of classical music's most famous tunes – Holst's 'Jupiter', the fourth movement of his The Planets suite. It was first sung at St Paul's Girls' School in Hammersmith, where Holst taught and where it would later become the official school hymn.

The text comes from Sir Cecil Spring Rice and a poem he wrote around 1910 called Urbs Dei. Spring Rice revisited his poem after the First World War, removing some of the war references and centring more around peace and unity. Today, it's closely associated with Remembrance Day. It was also a personal favourite of Diana, Princess of Wales, performed at both her wedding and her funeral.

Read more: What are the lyrics to 'I Vow to Thee, My Country' and who wrote the hymn?

Chelsea Pensioners sing I Vow To Thee, My Country at Queen's 2022 Remembrance service

How Great Thou Art

The basis for this much-loved anthem is a Swedish poem called 'O Store Gud' (O Great God), written in 1885 by Carl Boberg, who was inspired by the sound of church bells outside his home, where he arrived after being caught in a violent thunderstorm. Initially, Boberg's poem was matched to a traditional Swedish folk song, but it was soon translated into English by British missionary Stuart K. Hine after its popularity spread.

Today, it has taken on a life beyond the church and is often performed as a gospel song by US artists. In 1967, Elvis Presley recorded the hymn as the title track of his second gospel LP of the same name, which earned him two Grammy awards.

How Great Thou Art from Vocal Majority

The Lord's My Shepherd

As the nation remembered Queen Elizabeth II at her funeral in 2022, the congregation at Westminster Abbey sang these ancient words which explore themes of protection, inner strength, safety, and graceful guidance. A setting of Psalm 23, it was a favourite hymn of the Queen, most commonly sung to the hymn tune 'Crimond', which is thought to have been composed in 1871 by Jessie Seymour Irvine.

There have been several arrangements of the psalm over the years, from John Rutter to Howard Goodall, whose setting is the theme tune to British TV staple, The Vicar of Dibley.

Read more: What are the lyrics to 'The Lord is my Shepherd'?

'The Lord is My Shepherd', sung by soprano Alexandra Stevenson

Come Down O Love Divine

This Pentecostal hymn is a favourite of early summer weddings, and any time you want to feel the embrace of beautiful words and a cracking unison tune.

The theme of the hymn is Pentecost, and it tells of love, care, and charity among us all. It is usually sung to a beautiful melody by great British composer Ralph Vaughan Williams, and a tune he named 'Down Ampney', after the Cotswold village where he was born. So it must have felt like a special one to him too. If you're searching for a hymn for your big day, look no further.

Come Down, O Love Divine. Traditional Hymn to the Holy Spirit.

How Shall I Sing Thy Majesty

Mention this hymn name to any seasoned church singer and you can expect an almost immediate glazed eye, with an emotional look into the distance.

Another staple of choral weddings and big church services, it's most commonly sung to a ravishing melody 'Coe Fen', composed by Ken Naylor, with gentle waves of expansive musical lines. The text by John Mason is just as good too, with words of majesty and mystery, concluding with the immortal lines: "Thou art a sea without a shore, a sun without a sphere; Thy time is now and evermore, thy place is everywhere."

How Shall I Sing That Majesty (Coe Fen)

Lord of the Dance

Destined to set a jolly and hopeful mood no matter the occasion, 'Lord of the Dance' is a sprightly number with melodic origins in an 1848 Shaker song.

The song, 'Simple Gifts', was made famous beyond the Shaker community by Aaron Copland, who used the melody almost note-for-note in his ballet score Appalachian Spring (1944), which is packed with all-American tunes. The hymn's text comes from English songwriter Sydney Carter, who in 1963 wrote about Jesus' life and mission, but portrayed it as a dance.

I Danced In The Morning "Lord Of The Dance" - All Saints Church Oystermouth Swansea

Dear Lord and Father of Mankind

You say 'rousing hymnal tune', we say Hubert Parry. The English composer really couldn't put a foot wrong when it came to those swelling melodies, and his tune 'Repton' is today the most popular accompaniment to 'Dear Lord and Father of Mankind'.

The 19th-century text tells of a pursuit of peace and selflessness. It is an adaptation of a poem by Quaker John Greenleaf Whittier, 'The Brewing of Soma' (1872), adapted by Garrett Horder and published in his 1884 Congregational Hymns.

Dear Lord and Father of Mankind

All my Hope on God is Founded

The Everest of reassuring hymns, this tune originates from a German hymn, 'Meine Hoffnung stehet feste', written in 1680 by Joachim Neander, who is considered the first important German hymnist after the Reformation.

It was translated into English in the late 19th century, and then in 1930, Herbert Howells was asked to write a new tune for it. Howell said the resulting tune 'A Hymn Tune for Charterhouse' came to him at breakfast "while I was chewing bacon and sausage".

All my hope on God is founded (Michael: A Fanfare Setting)