7 times Elvis Presley borrowed from classical music
16 August 2017, 09:25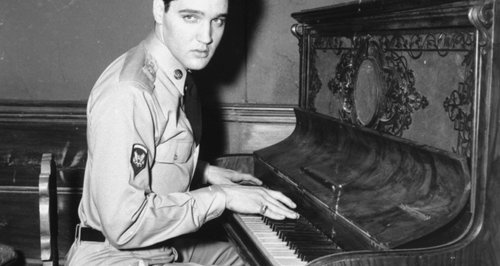 Today marks the 40th anniversary of Elvis Presley's death. The King has a huge catalogue of classic songs, but which ones borrowed their tunes from the classical music world?
It's Now Or Never / O Sole Mio

This cheeky clave-clicking number is Elvis' take on O Sole Mio, the popular Neopolitan song composed by Eduardo di Capua.
Surrender / Torna A Surriento

The Neapolitan classic Torna A Surriento was given a curl-lipped polishing by Elvis in 1961. What's more, it's got a tiny bit of the James Bond theme about it in the intro…
Tonight Is So Right For Love / Barcarolle from The Tales of Hoffman

Elvis sang this tender little number in the movie 'G.I. Blues', but the tune itself comes from Jacques Offenbach's opera, The Tales of Hoffman and, in particular, the popular Barcarolle.
Today, Tomorrow And Forever / Liebestraume no. 3 in A flat

Featuring some top-notch miming, this clip shows Elvis singing 'Today, Tomorrow and Forever' in an out-take from Viva Las Vegas. However, Liszt beat him to it with his Liebestraume no. 3.
Can't Help Falling In Love / Plaisir d'Amour

One of Elvis' biggest hits actually shares a little bit of its main melody with Martini's immortal Piacer d'amor - wait till you get to the chorus on Elvis' version and you'll see the similarity.
Five Sleepy Heads / Guten Abend, Gut Nacht

One of Brahms' most famous compositions, this lilting lullaby was also given the Presley polish when he recorded 'Five Sleepy Heads' in 1968, for use in the movie 'Speedway' (it never made the final cut, unbelievably).
Also Sprach Zarathustra

Finally, inevitably, we have to talk about Elvis' entrance music - Richard Strauss' apogee of epicness, Also Sprach Zarathustra. Here's The King limbering up…