Justin Bieber started playing Beethoven in a Toronto bar: we critique his piano skills
8 November 2016, 16:34 | Updated: 6 January 2017, 14:45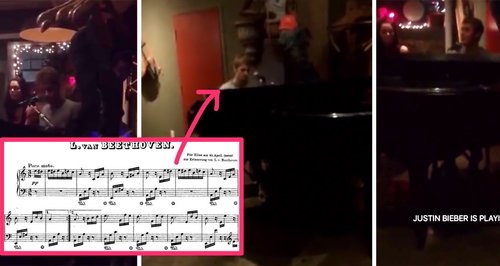 Justin Bieber shocked the patrons of a Toronto bar earlier over the weekend when he played an impromptu set on their grand piano, including Beethoven's 'Für Elise'. But was he any cop?
First things first, Bieber has form with 'Für Elise'. Here he is playing it back in January of this year in a hotel lobby:
At the time, concert pianist Stephen Hough remarked that "there's not much Beethoven there, but there's a nice, loose sense of improvisation, a teasing of the phrase."

So, 11 months on, have Bieber's skills improved?
Hmmm. Not much.

As Hough correctly identified, there is an attractive looseness to his playing, but in truth it sounds more like it's masking poor technique. This piece is something of a go-to for aspiring pianists, but it seems that Bieber uses it as something of a crutch, popping it out whenever he happens to be in front of a piano.

There are some signs of improvement, though: he's added some tinkly arpeggios to 'Für Elise' which make it sound slightly more ornamented than most interpretations, but we're fine with a little embellishment.

Of course, Bieber is to be commended for the medley of songs he then proceeded to play (including The Beatles' 'Let It Be' and OneRepublic's 'Apologise'), but we know he's got the talent to really improve his pianism.

Our advice: expand your repertoire. Get cracking on some Bach preludes, or perhaps Schubert's Ave Maria, simple pieces that sound impressive. Don't worry so much about the four-chord pop songs - they're great in a bar, but if you want to move your technique along fast then get to grips with the classics.

This could be you, JB: